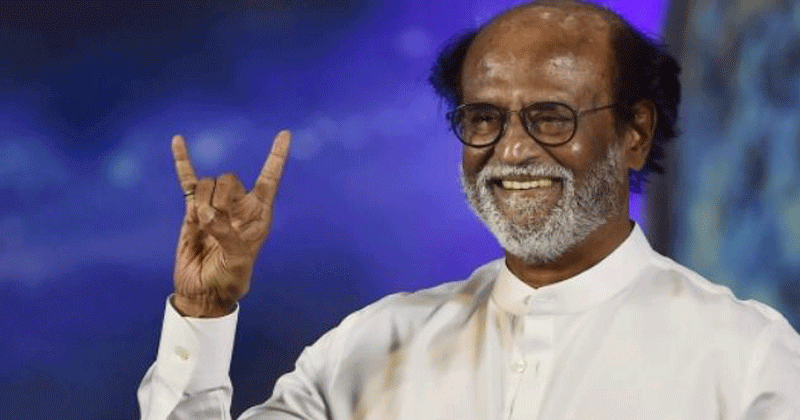 Although actors-turned-politicians Kamal Hassan & Rajinikanth decided to plunge into the political field almost at the same time, Rajinikanth is yet to don on his political outfit.
Superstar Rajinikanth could be getting ready for the much-awaited 'big' announcement on the launch of his political avatar, his diehard fans say as their iconic thalaivar returned from Kolkata after shooting for a film and visiting the Belur Math to pay respects to the presiding guru.
"The good news can happen in the very near future. He returned from Kolkata last night and immediately jumped into hectic activity meeting with political adviser Tamilaruvi Manian and also his mandram secretary Raju Mahalingam to discuss future strategy", said a mandram associate requesting anonymity.
Manian told reporters that his meeting with Rajinikanth was just a courtesy call as he wanted to greet him on his return to Chennai after nearly a month's trip to West Bengal. Politics were not discussed, he said but added that the actor would soon make announcements that would please his fans and public.
READ ALSO: Finally , Rajinikanth's '2.0' gets release date
The star made no political speech at a felicitation for A. C. Shanmugam, former AIADMK MP and founder of MGR group of institutions, late Wednesday evening. It was more of a fun thing and reference to the hairstyle of the politician-educationist and how he wished he had such healthy hair.
"Rajini is most unlikely to make any political announcement before November 29 when his much-awaited Shankar film '2.0' is being released. And even now, while he is busy with the Sun Pictures movie shooting in West Bengal, he is discussing the next project to be directed by K.S.Ravikumar", said a Kollywood source, adding that the superstar will be flying again for the shoot in Dehradun on July 16.
"Seeing Kamal Haasan losing gas after launching his political outfit rather prematurely, Rajini would rather take time before making the big plunge. He is interested only in the State Assembly election and that's still three years away", said another source, adding, "Yes, he may make an announcement after November 29, particularly if there are indications that Tamil Nadu will have early Assembly elections".