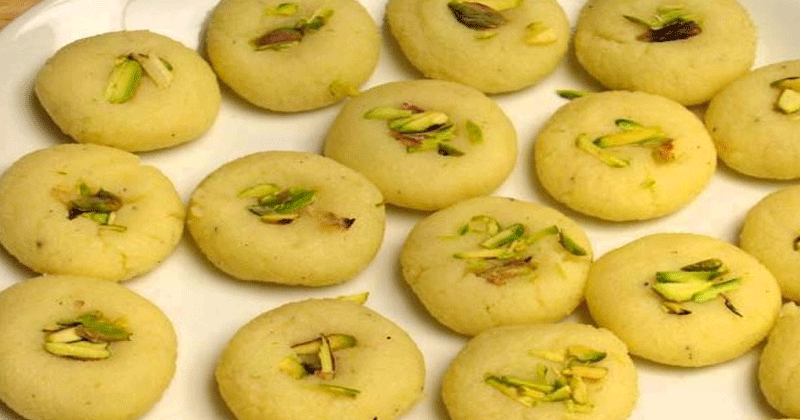 The traditional method of preparing milk peda is quite time-consuming as it requires cooking milk in low flame until it thickens. But this instant peda can be prepared within 10 mins with condensed milk, milk pwd and flavoured with saffrons and cardamom.
Ingredients
Ghee – 3 tbsp
Milk powder – 1 cup
Sweetened condensed milk – 250 ml
Cardamom pwd – 1/4 tsp
Saffron strands – a few
Whole milk – 25 ml
Pistachios to garnish
Method
Soak few strands of saffron in 3 tbsp of warm milk.
Heat ghee in a frypan.
Add sweetened condensed and stir.
Let it cook in low flame.
Add milk powder and stir.
Add saffron soaked milk and combine.
Stir until the mixture thickens.
Add cardamom pwd and stir.
Add 2 tsp of ghee and combine.
Turn off flame once the mixture got thick.
Transfer the mixture to plate and allow to cool.
Knead to smooth dough.
Take a small portion and roll it to ball.
Pat it flat and make a small dent in the centre
Garnish with sliced pistachios and set it aside.
Repeat the same for the rest of the mixture and arrange the pedas in the plate.
Lip-smacking delicious Kesar pedas are ready.
Enjoy!
Also Read:How To Make Stick Kulfi: RECIPE