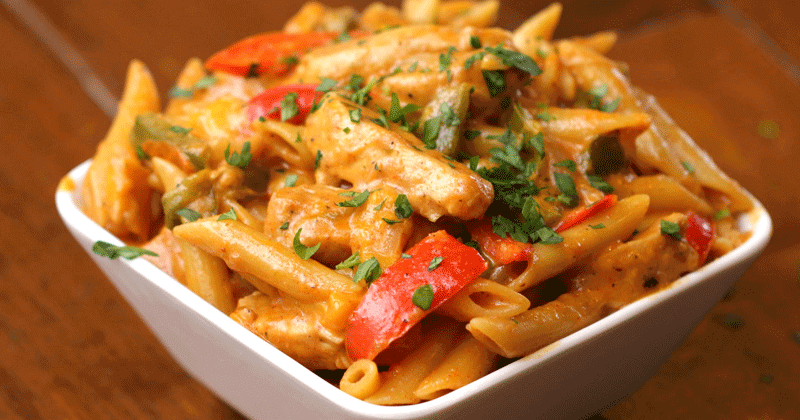 When tender chicken pieces meet blanched pasta penne, they together result in a wholesome meal that can be relished as lunch or dinner along with some red wine.
One-pot Fajita Pasta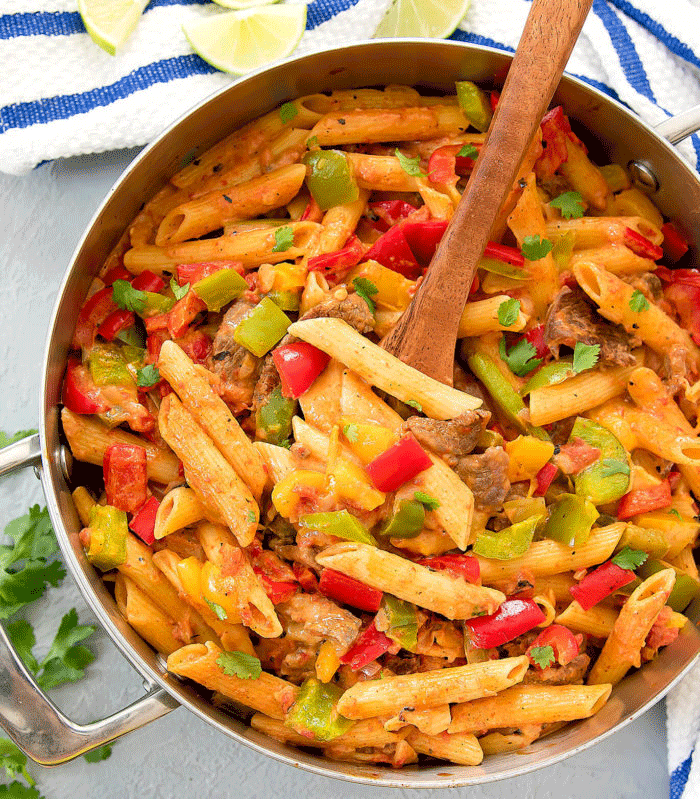 TOTAL TIME: 30minutes
PREP TIME: 10 minutes
CALORIES: 535
SERVES: 11
INGREDIENTS
1 1/2 tablespoon virgin olive oil
1/2 red bell pepper
1/2 yellow bell pepper
salt as required
1/2 tablespoon chili powder
1/2 tablespoon garlic powder
2 cup boiled pasta penne
1 1/2 chicken breasts
1/2 capsicum (green pepper)
1/2 onion
black pepper as required
1/2 tablespoon cumin
2 1/2 cup milk
1/2 cup cheese-pepper jack
1 handful coriander leaves (for garnishing)
READ ALSO: Creamy delicious One-Pot Mushroom Pasta
METHOD
Begin with finely chopping the onion, red bell pepper, green bell pepper, yellow bell pepper. Grate the pepperjack cheese in another bowl. Place a non-stick pan over medium flame and heat oil in it. When the oil is hot enough, add chicken breasts in the pan and let it cook from both sides. When the chicken turns slightly brown, remove from pan and transfer it to a bowl. Keep the pan back on the flame.
Now, add chopped onions and bell peppers in the pan and stir-fry them until bell pepper turns tender. Next, add cooked chicken to the fried vegetables. Stir to mix the ingredients well with chicken.
Sprinkle salt, black pepper powder, chili powder, cumin powder and garlic powder over the stir-fried veggies and chicken. Use a large spoon to mix the ingredients well. Make sure chicken is evenly coated with spices. Stir-fry until the vegetables release oil in the pan.
Now, add milk and stir constantly and also add penne pasta. Keep stirring to ensure that pasta doesn't stick at the bottom of the pan. Cook until the pasta turns tender and milk dries up. Now, add the grated cheese and mix until it melts completely. Now, transfer the cooked pasta on a plate and garnish with coriander leaves. Serve it immediately to enjoy!