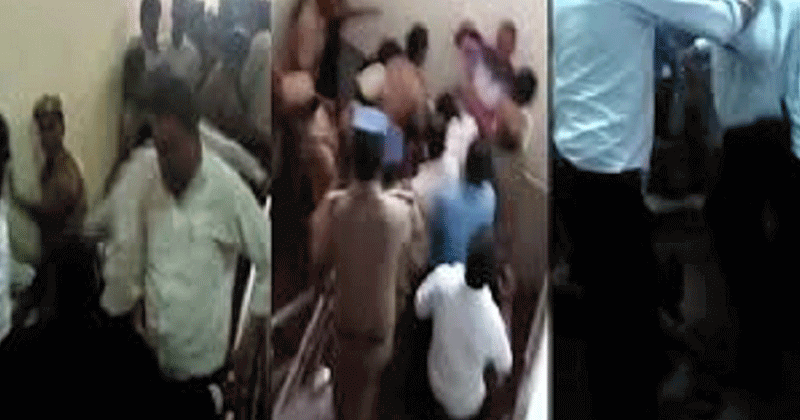 A minor deaf girl was raped by nearly 22 men for the past 7 months. Out of the 22, 17 have been arrested and produced before the Courts.
Angry lawyers had turned on the 17 accused that were present in the Court.
Those arrested included a liftman, security guards, plumbers, electricians and other maintenance staff working at the apartment complex in Ayanavaram locality where the girl lived with her family and where she was allegedly sexually assaulted several times.
Amid the shock and outrage over the incident, the accused were arrested and produced before the women's court, where agitated lawyers punched and kicked them while dragging them down the staircase as they were being escorted out.
The court remanded all the accused in police custody till July 31.
READ ALSO: Minor deaf girl gang-raped in empty flat for more than 7 months
Watch VIDEO uploaded by ANI
#WATCH: Dramatic visuals from Mahila Court in Chennai where lawyers thrash the 18 accused, who sexually harassed an 11-year-old girl for over a period of 7 months. #TamilNadu pic.twitter.com/8ASDOlm7gW

— ANI (@ANI) July 17, 2018
The Madras High Court Advocates Association (MHAA) has, meanwhile, said no lawyers will represent the accused in the case and sought "strong punishment" for them.
"The advocates have registered their protest against this incident (sexual assault) by raising slogans against the accused persons. We have decided none of the advocates will appear for them," MHAA president G Mohanakrishnan told reporters.
MHAA's decision will be communicated to other lawyers' bodies also, he added.
The tension was palpable outside the women's court located on the third floor of the family court premises when the accused were brought for completing the remand proceedings, which lasted four hours till 3 pm.
When the police contingent began escorting them back, around 50 advocates flew into a rage and started beating up the accused. In the melee, eight of them were secured inside an additional family court on the ground floor and nine others rushed back to the women's court, to which they were still confined.
Principal family court judge Dharman, MHAA chief Mohanakrishnan, advocate Kannadasan, joint police commissioner TS Anbu and others were trying to persuade the agitated lawyers to end their protest and allow the accused to be escorted away.