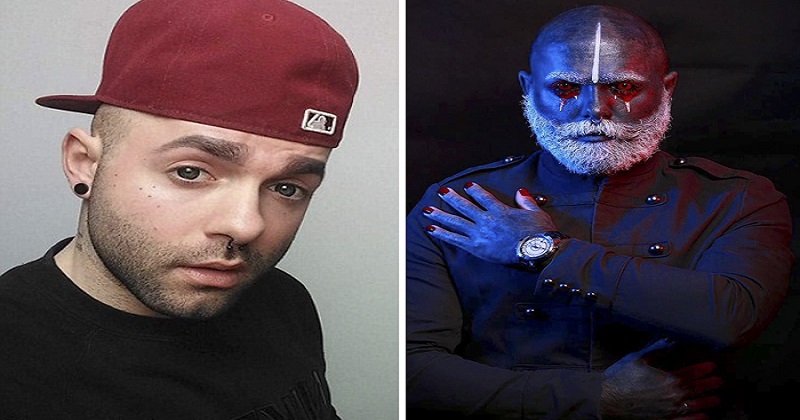 A Russian man, whose body is 90% tattooed, recently went to extreme lengths when he decided he would have his genitals surgically removed because they 'spoiled' and 'interfered' with the view of his body art. Adam Curlykale, 32, from Kaliningrad, Russia, decided to start tattooing his body, including his eyeballs, with black ink after he was diagnosed with cancer 12 years ago. Adam also has albinism and started tattooing himself because he felt depressed by his pale skin.
Adam recently travelled to Mexico to remove his nipples, testicles and penis. In an Instagram post on July 14, Adam said he 'just had a nullification surgery' at Jardines Hospital in Guadalajara, Mexico. The term 'nullo' refers to a form of extreme body modification involving the surgical removal of genitals and nipples from one's body. Adam started tattooing his entire body after he survived colon cancer at 22 years old. The cancer treatment left his immune system weak and resulted in diagnosis with albinism.
Also Read: Naga Chaitanya's tattoo is a morse code, Samantha got surprised after fan decode it's meaning
Feeling depressed from the paleness of his skin, he started adding tattoos and discovered a passion for the art once he saw the results. Now 10 years later, Adam is 90% covered in jet-black ink – including his eyes and face. He was quoted saying, "I did not accept myself and others did not accept me. Tattoos allowed me to discover myself again. I became beautiful to myself."
He further plans to continue tattooing his arm-pits and buttocks black and finish off with mandalas on his palms and soles of his feet. "I always knew that I was different from the rest of the society. My favourite colour has always been grey, in different tones, and that's why my current skin colour is graphite."
Since last Saturday, Adam, who is a YouTuber, blogger and family psychologist, has been sharing photos of his operation to remove his genitals and nipples with his social media followers.