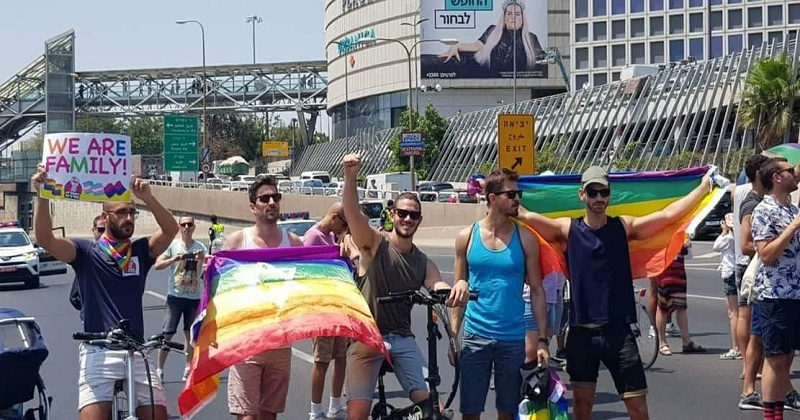 Scores of Israeli companies have rallied in solidarity with the country's gay community, which has called a strike on Sunday to protest against the exclusion of single men from an amendment to Israel's surrogacy law.
Companies from all sectors of the economy have told gay workers who plan to participate in Sunday's unprecedented strike action that they will not be docked pay.
Israel's main Ben Gurion airport has already warned of possible flight delays after it permitted staff to join Sunday's protest.
Avi Nissenkorn, the head of the Histadrut trade union federation, called on the leaders of all labour unions to permit their workers to strike.
"The battle for equal rights for the gay community is an important battle for Israeli society," he said.
Airline Israir is allowing its employees to wear black instead of their usual uniforms on Sunday.
The strike was called after the Knesset parliament on Wednesday passed an amendment to the surrogacy law seeking to make the procedure available to single women.
Read More: Terrorists release Video showing last minute torture faced by J&K police constable Saleem Khan – Watch Video
Knesset member Amir Ohana, the first openly gay legislator from prime minister Binyamin Netanyahu's ruling Likud party, who have had children with his partner via surrogate mothers overseas, introduced a clause that would make single men and, by extension, gay couples, equally eligible for the process.
Israel does not recognise same-sex marriage and single Israeli men, regardless of their sexual orientation, who wish to become fathers through a surrogate mother, must go abroad – a long and very expensive process.
The LGBT community was particularly angry with Mr Netanyahu, who refused to back surrogacy for gay men only two days after posting a video clip expressing support. The U-turn came after ultra-Orthodox coalition parties threatened to bring down the government if the amendment was included in the Bill.
Rebuffing criticism, Mr Netanyahu said his position was consistent.
"I support surrogacy for mothers and fathers. I told Knesset member Ohana upfront that I would not back his amendment because it will undercut the Bill as a whole. This Bill focused on single mothers. I told him to sponsor a separate amendment focusing on fathers, which I will support."
Hundreds of gay activists blocked main junctions in Tel Aviv and Jerusalem after the vote. Declaring Israel's first-ever strike by the LBGT community, they said the move goes against the image Israel likes to portray as the only Middle Eastern country which champions gay rights.
Technology companies, many of which are based in Tel Aviv, a top attraction for international gay tourism, were the first to back the strike. IBM informed its workers that the company has always fought for equal treatment for everyone.
"No one should be denied the basic human right – the right to have a family – because of the decision to be faithful to themselves and their identity," the company said in a statement.
Microsoft and tech company Mellanox announced that they would grant the equivalent of €14,000 to every employee who wanted to start a family by means of surrogacy.