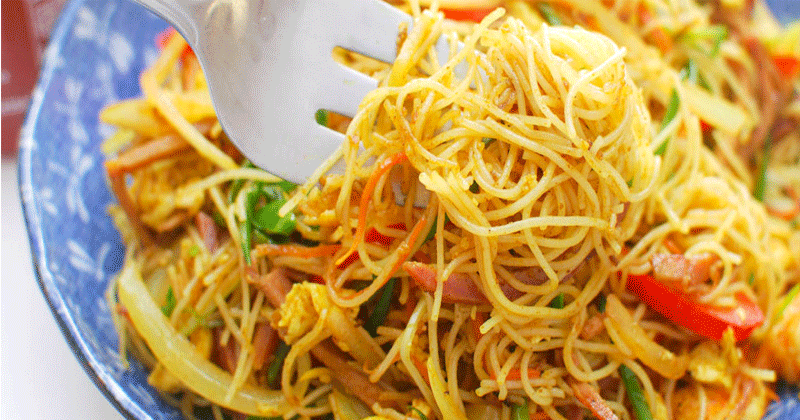 Ingredients Of Singapore Noodles
120 Gram Rice Vermicelli (soaked and drained)
1 1/2 Cups Sprouts , blanched
1 Cup Spring Onions, chopped
1 Capsicum , julienne
1 1/2 Cup Cabbage, sliced
1/2 Cup Onion, sliced
2 tsp Garlic, chopped
2 tsp Ginger, chopped
1/4 Cup Water or Stock
2 Tbsp Soya Sauce
1 tsp Sugar
To taste Salt and Black Pepper
1 1/3 Tbsp Vietnamese Curry Powder
1/4 Cup Oil
How to Make Singapore Noodles
In a small bowl, mix together the water/stock, soy sauce and brown sugar. Set aside.
Heat oil in a large wok and over high heat,add the curry powder and garlic. Stir-fry until fragrant.
Add the onion, stir-fry until it begins to soften.
Push to the side and add the ginger and spring onions and stir-fry until the spring onions soften.
Add the capsicum and cabbage and stir-fry till a little soft.
Stir in the bean sprouts, cook briefly, then add the noodles.
Add the sauce, tossing the ingredients carefully to mix.
If too dry, add a bit more water/stock.
Add salt and black pepper to taste. Serve hot.
Also Read:Vegetable Pulao Recipe