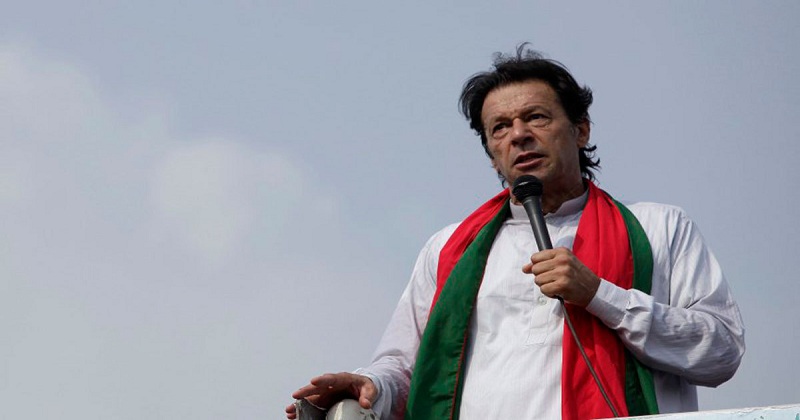 Imran Khan, the man all set to become the next Prime Minister of Pakistan, asked India to take a step forward following which his country will take two steps to ensure better relationship between the two countries but also raked up the Kashmir issue while addressing the country through a video link from Islamabad's Bani Gala on Thursday.
The Pakistan Tehreek-e-Insaf supremo, whose party is emerging as the single largest party in Pakistan national Assembly, claimed he is willing to mend the ties with India.
Blaming India of violating human rights in Kashmir, Imran said that whenever armed forces are sent into civilian areas such incidents come to light and the issue cannot have a military solution. He blamed Indian media, too, for projecting him as a "Bollywood villain".
Also Read : India should be ready to finish Pakistan and break it into four,says Subramanian Swamy
In his first press conference after declaring victory in the Pakistan elections, Pakistan Tehreek-i-Insaf chief Imran Khan on Thursday touched upon the Kashmir dispute, saying the only way to solve the decades-old crisis was through dialogue with India. The former cricketer further said after 22 years of struggle he finally got an opportunity to serve the nation and his party envisioned creating a Pakistan "that Jinnah dreamed of".
"If they take one step towards us, we will take two, but at least need a start," he said. Khan, whose party is presently leading in 120 seats, asserted that the mudslinging between the two neighbours was detrimental to the sub-continent and should stop. "Kashmiris are suffering for long. We have to solve Kashmir issue by sitting across the table. If India's leadership is willing then the both of us can solve this issue through dialogue. It will be good for the subcontinent also," Khan said.