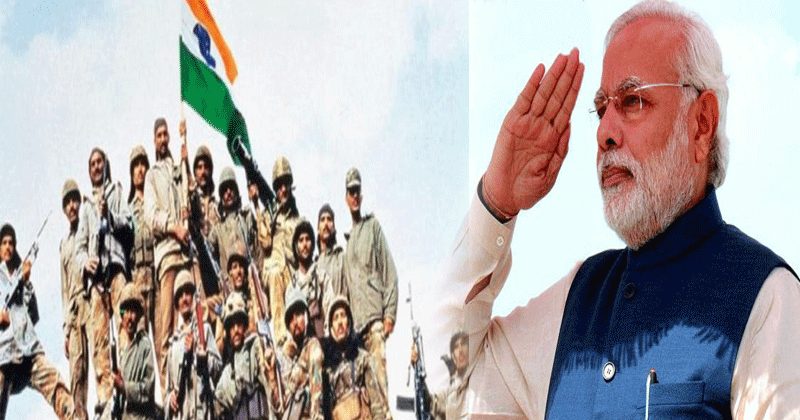 The Kargil War, also known as the Kargil conflict, was an armed conflict between India and Pakistan that took place between May and July 1999 in the Kargil district of Kashmir and elsewhere along the Line of Control.
And yesterday the Indian Army paid tribute to the martyrs who laid their life down for the nation.
The wreaths were laid by Lt Gen Y V K Mohan, General Officer Commanding, Rising Star Corps and Maj Gen Sanjay Singh, GOC, Tiger division at the eternal flame of the War Memorial.
The martyrs were also paid homage by their kith and kin, gallantry awardees of the Kargil war, senior Army officers and veterans besides the civilian dignitaries.
Among veterans, Param Vir Chakra awardee Captain Bana Singh also paid tributes to the martyrs. A guard of honour was also presented during the wreath-laying ceremony.
The tributes were also paid to the martyrs at the Tiger War Memorial by Lt Gen Mohan, Maj Gen Singh, NCC cadets & several Army veterans including Vir Chakra awardee Col Vir Shahi.
Kargil Vijay Diwas is celebrated every year on July 26 to commemorate India's resounding victory over Pakistan in Operation Vijay, 1999.
READ ALSO: TTT talks to be held between Modi, Jinping and Putin
TWITTER HOMAGE OF PRESIDENT & PRIME MINISTER
President Ram Nath Kovind and Prime Minister Narendra Modi among other dignitaries paid homage to the martyrs.
President Ram Nath Kovind tweeted:
On Kargil Vijay Diwas, every Indian acknowledges the efforts and gallantry of our Armed Forces. We salute the ultimate sacrifice of the martyrs of Kargil, and record our everlasting debt to their families #PresidentKovind

— President of India (@rashtrapatibhvn) July 26, 2018
Vice President Naidu said:
Vijay Diwas helps in reminding our countrymen of the bravery of soldiers who are all the time alert in extremely difficult situations and environment in defence of our country and for the safety and security our lives. #KargilVijayDiwas pic.twitter.com/0CUca1d9MI

— VicePresidentOfIndia (@VPSecretariat) July 26, 2018
Prime Minister Narendra Modi:
On #KargilVijayDiwas, a grateful nation pays homage to all those who served the nation during Operation Vijay. Our brave soldiers ensured that India remains protected and gave a befitting answer to those who tried to vitiate the atmosphere of peace.

— Narendra Modi (@narendramodi) July 26, 2018
India will always remember with pride, the outstanding political leadership provided by Atal Ji during Operation Vijay. He led from the front, supported our armed forces and clearly articulated India's stand at the world stage. #KargilVijayDiwas

— Narendra Modi (@narendramodi) July 26, 2018
Defence minister Nirmala Sitharaman and the three Service chiefs — Army chief General Bipin Rawat, Naval chief Admiral Sunil Lanba and Air Chief Marshal Birender Singh Dhanoa — laid wreaths and paid rich tributes to the martyrs on the 19th anniversary of Kargil Vijay Diwas at the Amar Jawan Jyoti in Delhi.
"We salute all the brave hearts who proudly protect the nation," the defence minister said.
Other ministers also paid tribute to the soldiers.
Home Minister Rajnath Singh said, "On Kargil Vijay Diwas we salute the unflinching courage and supreme sacrifice of all those soldiers who fought valiantly in 1999. Every Indian citizen is proud of their heroism and service to the nation."
External Affairs Minister Sushma Swaraj added that she saluted the "courage, valour and sacrifice of our martyrs and heroes".
Union minister Arun Jaitley tweeted, "Salute to indomitable courage of our soldiers."