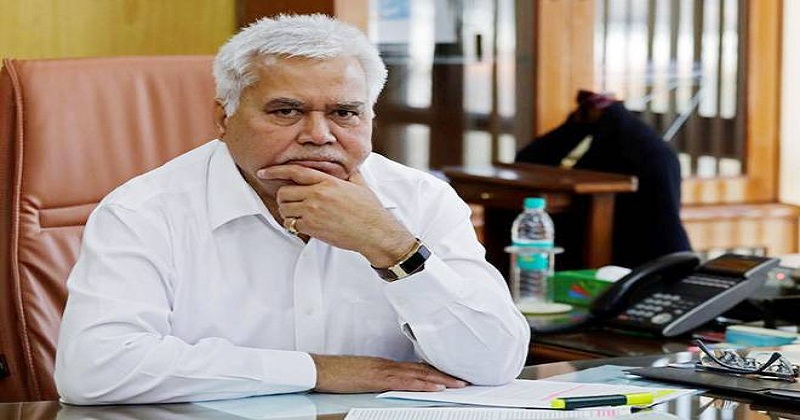 Twitter, over the past two days, has been raging, all thanks to a 12-digit Aadhaar number, that was made public by Telecom Regulatory Authority of India (TRAI) Chairman and a former CEO of UIDAI, R S Sharma. After posting his Aadhaar number, he challenged people on twitter to try and harm him by misusing the number.
What followed his tweet was a series of back and forths between the TRAI Chairman and ethical hackers who claimed to have revealed his personal data. However, UIDAI has since then released a statement on July 29 stating that no data has been fetched using UIDAI's database. Here's a look at what has happened till now:
R S Sharma's challenge on Twitter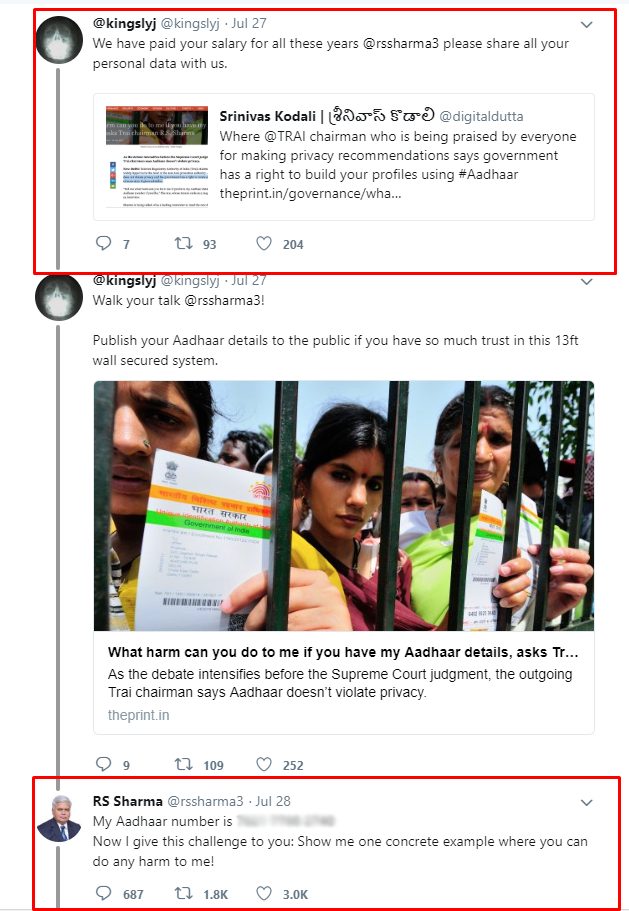 R S Sharma's in a bid to quash a twitter users' challenge that Aadhaar data is insecure, the former UIDAI Chairman published his Aadhaar no. on July 28. In the tweet, which probably flouts UIDAI norms as well, Sharma asked the twitter user to give one concrete example of the harm that could be done to him.
Also Read : RS Sharma's personal details were not fetched from Aadhaar Database: UIDAI
Sharma's tweet received thousands of likes and shares, while some tech-savvy Twitter users and ethical hackers started digging personal information of Sharma and started posting his personal data on Twitter.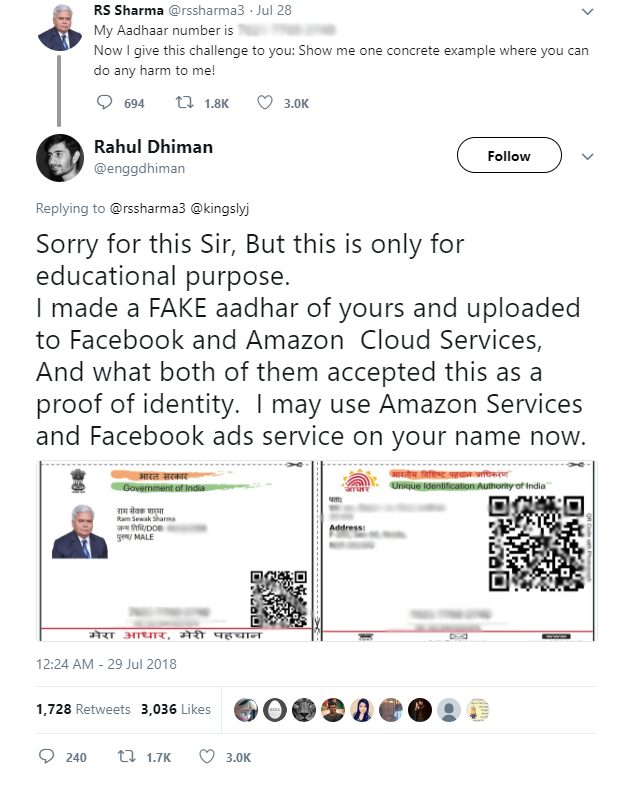 To prove the inefficiency of the Aadhaar number in maintaining privacy, some hackers even sent Re. 1 to Sharma's bank account using the Aadhaar Enabled Payment System (AEPS). Furthermore, ethical hackers also posted his Demat account details and also showed his payment history.
To show how Aadhaar can be misused, one Twitter user photoshopped Sharma's Aadhaar details on another Aadhaar number and then used it as authentication for Amazon Web Services and Facebook. If all the data, which has been made public so far, is authentic and genuine, only seeks to show how by using the 12-digit number information can be dug out.