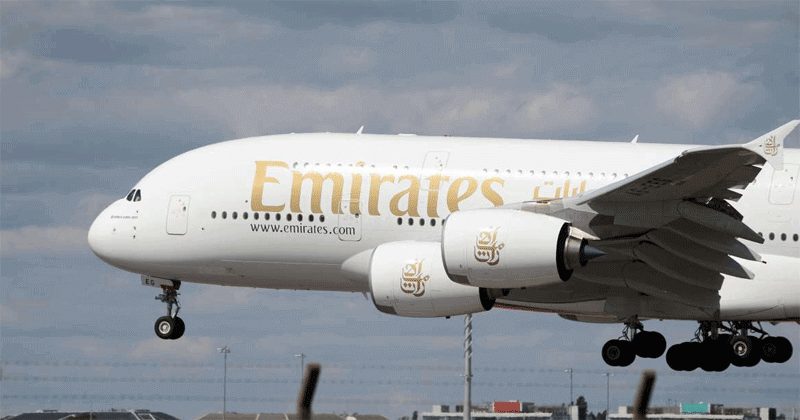 Causing disturbance to the crew members and the passengers, an off0duty pilot threatens to blow up the Emirates flight.
A pilot allegedly caused a disturbance on a Madrid-Dubai flight after threatening he had explosives, a Dubai court has heard.
According to public prosecution records, the 27-year-old Emirati pilot was travelling as a passenger on the flight when he started to behave erratically. He allegedly assaulted a stewardess and caused her to fall down. He was under the influence of alcohol then.
At the Court of First Instance, the pilot was charged with compromising the safety of a flight and passengers, assaulting and verbally abusing the crew, making criminal threats, damaging public property and consuming alcohol without a licence. He is also accused of insulting other passengers.
The incident, which was reported to the police at the Dubai International Airport, took place on June 1.
He "intentionally" caused damage to a seat and the cover of a window. The damage was estimated at Dhs 10,324.
A British service manager at the airport said she called the police to report an assault and damage incident she was alerted about by the plane cabin crew on June 1. "The police went to the arrival gate and the defendant was taken into custody."
READ ALSO:  Emirates revoked the decision of discontinuing the "Hindu meals" from food options
A Romanian flight attendant said the defendant did not look sober when he boarded the plane. "A few hours into the flight, he started to cause disturbance. He would call for us and then make insults. He would run to the kitchen to bring beer. He would also insult other passengers."
The witness recounted how he stood on his seat, and talked in an inappropriate manner to a passenger. "As I stopped him from taking his shoe off and tossing it, he slapped me on the chest, causing me to fall down.
"A passenger helped me handcuff him and made him stay in his seat. He then said he had a bomb and would blow the plane off. He almost hurt himself when trying to remove the cuffs. He verbally abused me, the crew members and the passengers, screaming that we take his cuffs off."
The witness added that the accused also threatened that he would chase and kill her. "He kept yelling, threatening and insulting us until arrival. The passengers got very scared and disturbed over his behaviour."
The defendant also banged his head against the movie monitor screen, saying that he would tell the police the crew assaulted him, the witness said.
During the investigation, the accused admitted to the charges.
The Emirati pleaded guilty at Dubai Court of First Instance but asked judge Fahd Al Shamsi to adjourn the case until he had hired a defence lawyer.
The trial has been adjourned to August 8.