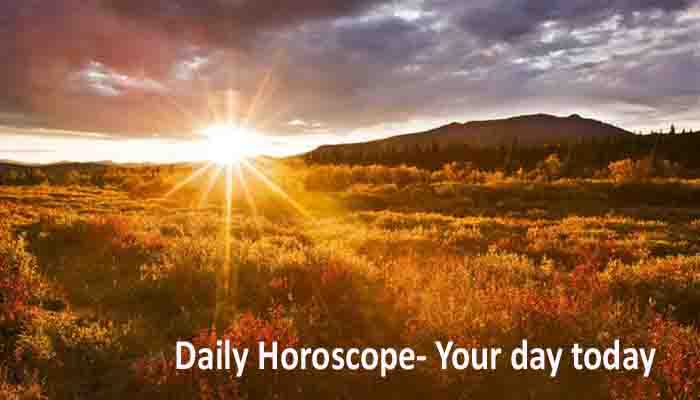 Are you deeply concerned about today? Want to know what the future holds? Let the daily horoscope prediction guide you.
Know what astrology has to offer you today. Horoscope is the best way to know what your stars foretell. Daily horoscope and astrology readings forecast how the stars are going to impact your life.
Given below is today's horoscope, ie., horoscope for Thursday, Aug 2, 2018
You may be alone, but not necessarily lonely. You may want to listen to your inner voice, and express your true self creatively. Spend the evening with a loved one who can hear the music in your silence too, suggests Ganesha.
You may feel let down as your folks may not extend the support you expected from them, says Ganesha You should try to remain practical and not get swayed by emotions. It is highly likely that family feuds may erupt today. Ganesha advises you to avoid confrontations and keep smiling to emerge a winner.
Today, you are likely to remain transparent in all your dealings, forecasts Ganesha. You can be optimistic about your chances of success if you choose to propose to that special someone. The day will bring more pleasure than pain.
Today, you are likely to be brimming with love and compassion. However, certain negative thoughts will spoil all your good work. But don't fret! Your efforts won't go wasted and you will get the desired results sooner or later, says Ganesha.
Do not be surprised if you find yourself today in a situation that somehow feels like a landmark moment in your life. Whether it is a personal matter or something related to work, that you must wait to find out, you will need all your grit and diplomacy to sail through. Stay balanced! One thing assured is that your social reputation shall receive a tremendous boost today!
The bulb of ideas will burn bright today. A possible see-saw between your contractual obligation and current duties may baffle you. New contacts will stand you in good stead. Blood will prove thicker, and family and friends will consolidate their place in your life.
It is more than likely, and possible indeed, that you will surpass your own past performances today. All this is on the cards, despite the fact that your peers at work will try to outwit you. But it is your consummate set of skills that shall help you pre-empt all such attempts, says Ganesha. If it is some peace that you are looking for today, expect to find it in meditation.
It is very likely that the moment of victory is often preceded by a moment of peril; but that is not where the danger ends. In the heat of victory, arrogance and overconfidence can push you away from what you aimed for. So, it is important for you to learn when to stop in victory. Set a goal and stop when you reach there, says Ganesha.
Sagittarius Nov 23 – Dec 21
You are on a high today and a feeling of ecstasy surrounds you. You are performance driven and shall give you best in anything you take up. Listen to your inner voice, it will guide you to the correct path. Ganesha showers His benevolent blessings on you. Make the most of this day.
Capricorn Dec 22 – Jan 20
It's going to be a day of pleasant surprises. You will try your level best to help people around you, and will find it exceedingly frustrating when the results won't be as expected, says Ganesha. In fact, this may even dampen your spirit and shake your self-confidence. But try and transform your weaknesses into strengths — it will help you develop a more positive approach to life.
Eat, drink, and make merry. But watch out: don't empty your pockets in one go. Also, guard your reputation. A lot depends on your behaviour, and the big daddies may be watching you. You have a lot at stake, and there should be no regrets later. Let success be your priority for now, says Ganesha. All else will follow.
An important day today, you can expect to reach a much-awaited milestone either on the domestic front or at the workplace, says Ganesha. Expect your professional status and your social standing to receive a boost.
Also Read: Your Daily Horoscope For 1 Aug 2018