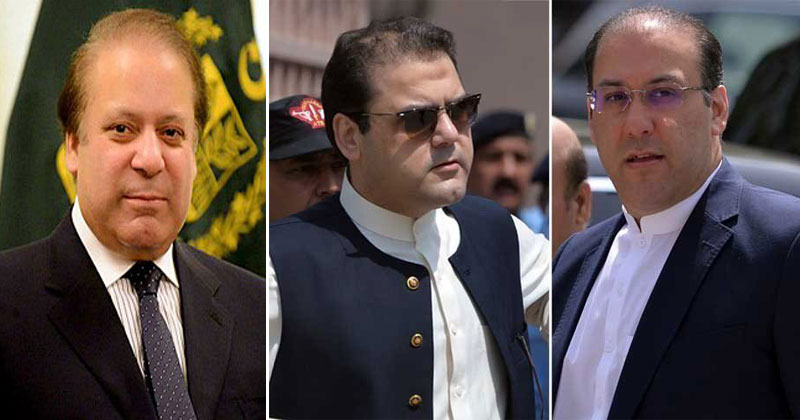 Former Prime Minister Nawaz Sharif was jailed along with his daughter Myriam over corruption charges.
And now Sharif's sons face Red Cross Notice.
Pakistan has approached Interpol for issuing Red Corner Notices against former Prime Minister Nawaz Sharif's sons Hasan and Hussain, the media reported on Saturday.
The jailed leaders' sons were declared proclaimed offenders by an accountability court after they failed to appear despite repeated orders to face the all three graft references –filed against them and their father — in line with the Supreme Court's July 2017 verdict in the Panama Papers case.
Hasan and Hussain Nawaz already have permanent arrest warrants issued against them in Pakistan.
The decision to issue Red Corner Notices was taken after anti-corruption body — National Accountability Bureau (NAB) — Chairman Javed Iqbal had asked the Interior Ministry to initiate the process of bringing back the two, currently living in London to take care of their ailing mother Kulsoom Nawaz, an international daily reported.
READ ALSO:  Did You Know? Former Pakistan PM Nawaz Sharif Has Played Professional Cricket. Check Out his Career Record
The daily cited sources as saying that the Federal Investigation Agency (FIA) submitted an application to the Interpol headquarters in France with the request to issue a red warrant of Hasan and Hussain Nawaz.
The application submitted through the FIA headquarters stated that both men were wanted in Pakistan in corruption references.
Previously, the court had issued directions for separate trials of Hasan and Hussain after they failed to appear before the court.
Last month, Sharif was sentenced to 10 years in jail, his daughter Maryam Nawaz got seven-year term while his son-in-law Captain (retd) Mohammad Safdar Awan received one year in the Avenfield corruption case. It was one of the three references filed on the orders of the Supreme Court last year.
Sharif and his sons were accused in all the three graft references — the Avenfield, Al-Azizia Steel Mills and Hill Metal Establishment, and offshore companies, including Flagship Investment Limited — whereas Maryam Nawaz and Safdar were accused in the Avenfield reference only.