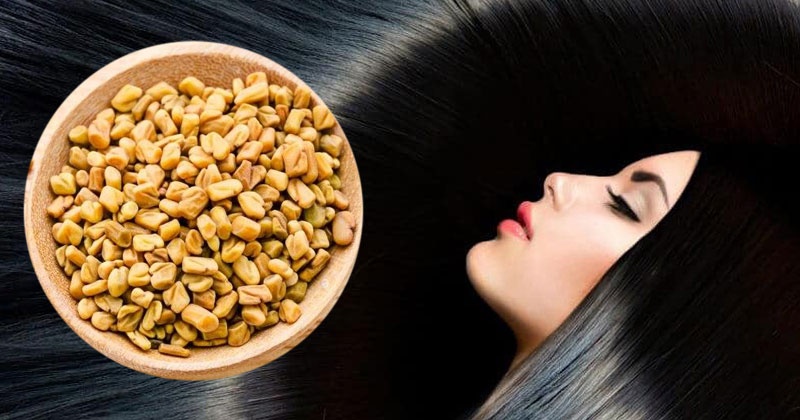 More often than not, your kitchen items are the source of a healthy and nourished hair.
And Methi Seeds/ Fenugreek Seeds is no different.
While Methi is great for you overall health and wellness, its effects on your hair are incredible. You will be surprised to know that methi's beneficial effects on your hair can make you ditch all the expensive hair products that you have bought. Take a look at the health benefits of methi aka fenugreek on your hair:
Helps fight baldness: Protein is food for hair and methi is rich in it. Protein in methi helps fight baldness and delay it as much as possible. You must include methi in your diet or use it topically on your hair if you don't want to be bald sooner.
Improves scalp blood circulation: Remember the time your mother, grandmother or father used to do your 'champi'? They used to massage your scalp with oil to improve the blood circulation and moisturize your scalp. The improved blood circulation of your scalp is essential for hair full of life. Methi that is also rich in Iron helps improve the blood circulation on your hair.
Prevents grey hair: Don't want grey hair? Fenugreek seed can be your savior. Fenugreek rich in Potassium helps prevent greying of hair and makes your hair luscious and youthful.
Encourages hair growth: Including methi in your diet can be your way to improved hair growth and long tresses. Methi is rich in Nicotinic Acid that encourages hair growth. Even topical application of methi can help you have long hair.
Makes your hair stronger: Rich in Lecithin, methi not only energizes your hair follicles but also reduces thinning of hair making your hair stronger than ever. Stronger hair follicles reduce hair fall and make your hair look thicker.
READ ALSO:  International Beer Day: These are the amazing health benefits of drinking beer
Works as a natural conditioner: The lecithin present in methi is also an emulsifying substance that helps make your hair shinier and softer, precisely what a conditioner does. What is better than a natural conditioner? When you soak methi seeds in water, you will see that the water becomes sticky, you can use a little bit of that as a natural conditioner.
Reduces hair damage: Methi makes your hair softer and less brittle that makes your hair easier to comb and prevents hair breakage. This natural ingredient is rich in various nutrients that help reduce the effects of excessive heating, styling and hair products from your hair.
Helps prevent split ends: Methi is rich in protein that can help strengthen your hair and also help reduce split, brittle ends.
Reduces dandruff: Methi helps provide moisture to your hair scalp and, in turn, enables you to get rid of dry scalp and fungal infections on your scalp that leads to excessive dandruff.
Prevents itchy scalp: Providing moisture to your scalp also helps you get rid of an itchy, flaky scalp. Methi helps you soothe your scalp and make it cleaner.
READ ALSO:  Amazing Beauty Benefits Of Baby Powder
Here are different ways you can use methi on your hair.
How to make fenugreek aka methi hair pack for hair loss?
Take a small bowl full of methi seeds and soak it overnight. Next morning drain the water from the methi seeds and mix some aloe vera gel (the transparent part from the middle of the aloe vera stem) in the seeds. Now grind the mix into a thick paste. Apply this paste on your hair an hour before shampooing your hair and then wash your hair once the pack dries on your hair.
How to use methi water for brittle, damaged hair?
Soak methi seeds overnight and separate the water from the seeds. Take the water and pour the water on your hair and let it dry for a while. Wash your hair later.
Methi seeds oil that can help your hair grow
Make your hair oil at home that can help your hair grow longer and make it stronger. Take the ingredients that are known to best for hair growth that are curry patta/leaves, coconut oil, and methi seeds. Heat the coconut oil and add methi seeds and curry leaves to it. Once it is heated well, drain away the seeds and the leaves and use the oil to oil your hair like you usually do.