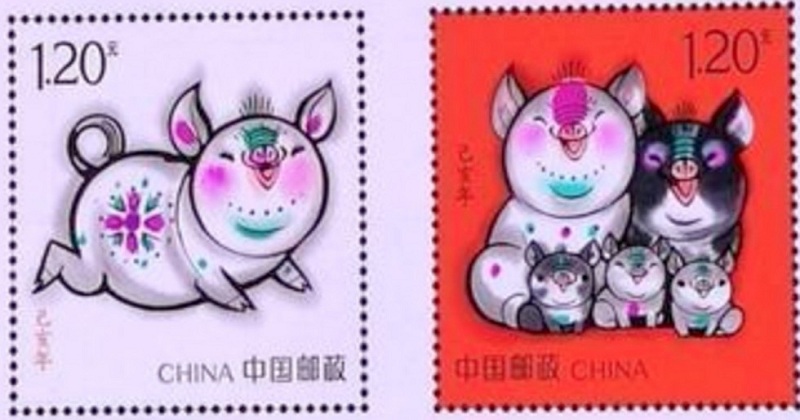 China has signalled the possible scrapping of its two-child policy and relaxing birth restrictions. And it started with the unveiling of a new postage stamp — showing a happy family of pigs with three piglets.
China Post unveiled the Year of the Pig stamp for 2019 Monday and commentators see the imagery used as an indication of China planning to abandon birth restrictions and a likely announcement to this effect by the end of the year when the country celebrates its 40th anniversary of reform and opening up.
There is also a precedent. China Post had released a similar stamp in 2016 — the Year of the Monkey — which showed two baby monkeys. Subsequently, the Chinese government had announced that the one-child policy had been abandoned.
Also Read : SHOCKING!!! Baby Girl Found Among Garbage Heap; SEE VIDEO
The mouthpiece of the Communist Party of China, People's Daily, had carried an opinion piece the same day the stamp was released, saying that China's continuing low birth rate was increasingly affecting Chinese society and economy. It also said that raising the birth rate required a systematic national solution.
"China's demographic dividend is dwindling, labour costs are rising and social security pressure is large," the paper said.
China is staring at a looming ageing crisis, with a massively declining birth rate threatening to derail its development.
In an attempt to control its booming population in the late Seventies, the Chinese government put in place a restrictive one-child policy slapping massive fines on offenders.
For an already heavily populated nation, Chinese officials earlier defended the one-child policy claiming that it had helped avert nearly 400 million births. At the same time, China did reap the benefits of its demographic dividend as its massive population supplied cheap labour to the world's industries.
According to its census, China had a total population of 1.347 billion spread over a total area of 95.96 lakh sq km. The 2017 estimates peg its population at 1.390 billion.