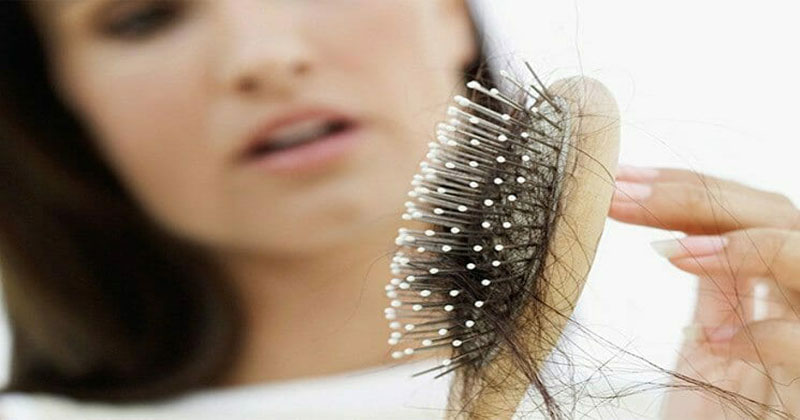 Causes of hair fall vary from person to person. While in some cases external factors might be responsible, issues such as some serious medical conditions, lack of nutrition and heredity are also leading causes of baldness in most patients.
How To Reduce Hair Loss:
The causes of hair fall are innumerable, and so it becomes crucial to get to the root of the problem. The best way to go about dealing with the problem would be to get the correct diagnosis to begin with. This can be made simpler by finding the areas where thinning is most prominent and also monitoring how much hair you are losing whenever you comb or shampoo. Consult a physician to find out whether you have any underlying medical issues causing the hair fall.
Combing your hair can be a nightmare when you are dealing with hair loss. This can be made easier by using the right comb. Use a wooden wide-tooth comb to untangle your hair; you can use your regular brush after this. This will reduce breakage and hair loss from pulling. It is also crucial to remember not to comb your hair while it is wet. Your hair is at its most vulnerable when wet, which increases the chances of breakage. You should also clean your combs and brushes every week. You can do this while you're in the shower or while shampooing each week. Cleaning your combs is a necessary precaution to take for hair fall control.
While rubbing your hair with a towel seems like the quickest way to dry it, it is also the worst thing that you could do to your hair. Drying your hair vigorously with a towel will lead to hair breakage, tangles, and pulling. Instead, gently squeeze out the excess moisture from your hair with your towel and then let it dry naturally.
Choose Your Products Wisely
Try to switch to shampoos that are sulfate, silicone, and paraben-free to avoid loading your scalp and hair with harsh chemicals that cause damage, making your hair brittle and more prone to breakage. Controlling the chemical damage is certainly a sure shot way to ensure hair loss prevention.
A lot of brands like The Body Shop, Soul Tree, Rustic Art, Organic Surge, and The Nature's Co. have some really good shampoo options that you can choose from.
Wash Your Hair Thrice A Week
Wash your hair at least once every three days with a gentle hair cleanser or shampoo to remove all the accumulated dust, dirt, oil, and bacteria build up. Keep it clean at all times to avoid hair fall from clogged follicles. It is also important not to wash your hair more than thrice a week. Overwashing will strip your scalp and hair of the natural oils that are essential for healthy hair growth.
Do not subject your hair to frequent chemical treatments, excessive blow drying, ironing, and coloring, as it can lead to hair loss. If you color your hair and have been facing hair fall issues, it would be a good idea to take a short break before you put any more chemicals in your hair. Avoid hairstyles like tight ponytails, pigtails or braids on a daily basis. Using hair elastics to pull back hair tightly can cause hair fall.
The ingredients from your kitchen can be a lot of help when you are looking for remedies for hair fall. Ingredients like coconut oil, onion, ginger, etc., have amazing properties that help promote hair growth.
If you have issues like dandruff or an oily/dry scalp, you need to tackle these issues immediately. Scalp health is vital to healthy hair growth and for avoiding hair fall.
There have been reams and reams of paper dedicated to how oiling your hair overnight can make a difference. Well, it is true. Though you may not like the idea of sticky, oily hair, application of oils like almond, coconut, and castor seeds, among others, can help your hair in the long term. Leaving your hair oiled overnight provides enough time for each strand to be coated and for the scalp to get nourished. Dandruff and dead cells are loosened by the movement of your fingers and can be removed easily with shampoo the next day. To give yourself an overnight oil treatment, follow the steps below (keep reading to know more about an oil blend recipe for treating hair loss):
You Will Need
2 tbsp Carrier Oil (Use an oil of your choice. You can also use hair oil blends)
Processing Time
Overnight
Process
Pour two tablespoons of a carrier oil like coconut, castor, olive, or almond oil, into a bowl.
Dip your fingers into this bowl and start massaging the oil into your scalp.
Give yourself a good scalp massage for about 15 minutes until your entire scalp is covered in the oil.
Work the remaining oil through the length of your hair.
Leave the oil in overnight and wash it off with shampoo the next morning.
How Often?
2-3 times a week.
Many salons offer hair spa treatments that are meant to strengthen, condition, and nourish your hair. These treatments are ideal for women who are busy and stressed. Not only does the treatment improve hair health, but is also the perfect way to relax and destress.
Listed below are the benefits of a hair spa treatment.
It deeply conditions your hair, treats split ends, and repairs dry, damaged, and dull hair. It also helps get rid of dandruff.
Hair spa treatment provides your hair and scalp with the essential nourishment needed for healthy hair growth.
It helps fortify the hair follicles and revitalizes the scalp, creating an ideal environment for unhindered hair growth.
It prevents scalp aging and improves the blood circulation in the scalp with a stimulating massage.
It also helps remove impurities from your hair and scalp, preventing clogging and build up, resulting in better hair health.
The hair spa treatment brings a welcome relief from stress and tension.
Also Read: Amazing Tips To Make Your Hair Looks Thicker