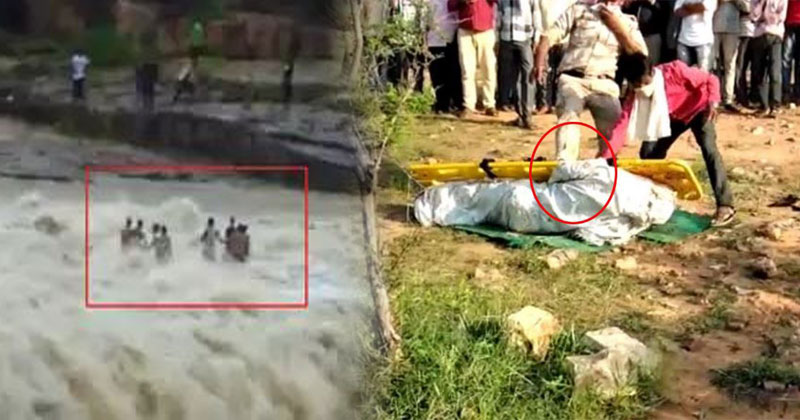 A shocking VIDEO has emerged where a policeman has kicked a dead body off a stretcher.
A Madhya Pradesh Police constable was suspended on Saturday after a video purportedly showed him pushing the body of a Shivpuri waterfall flash flood victim from the stretcher with his feet.
An action was taken by the Gwalior district SP Navneet Bhasin after the video was widely circulated on social media platforms. Meanwhile, search operations concluded on Saturday with the recovery of the ninth body from the site.
In the Sultanpur waterfall, 9 people have swept away in a flash flood and have been recovered after 3 days of frantic search.
Using legs to push victim's body down the stretcher is highly condemnable, necessary action has been taken, said a police officer. The deceased has been identified as Suraj, a resident of Gwalior.
See VIDEO uploaded by TIMES OF INDIA:

READ ALSO:  Flash Flood s Kills 11; Rescue Operations Saves At Least 40 Stranded
Sultanpur waterfall is about an hour's drive from Gwalior and Shivpuri on the Agra-Mumbai highway. It's a popular picnic spot and hundreds had gathered there on Independence Day.
Police said that many of them were bathing in what was then a gentle stream. Suddenly, around 4.30pm, the water level started rising. Locals screamed for the picnickers to get out immediately, but many couldn't realize they were in danger.
IAF choppers and NDRF personnel were roped in to rescue about 45 picnickers. Videos recorded on mobile phones showed a group of 8-10 youngsters desperately trying to hold on as they are pounded by the raging, churning torrent and are repeatedly swept over the edge. The group that got swept away was far too close to the edge of the waterfall.
The state government has declared a financial assistance of Rs 4 lakh to the kin of each victim.