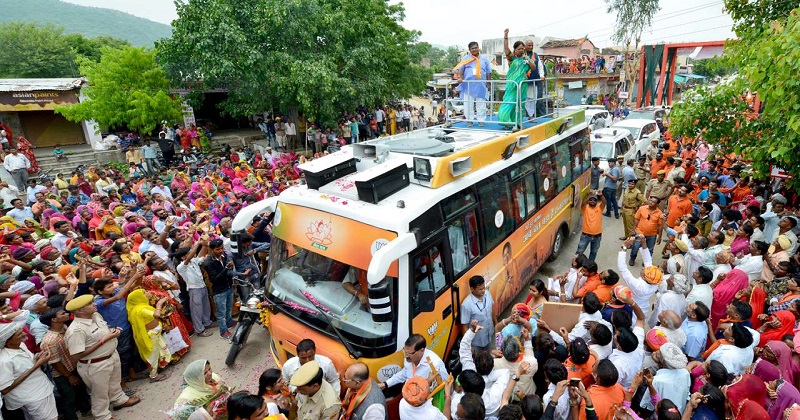 Amid the next level of Rajasthan Gaurav Yatra of the chief minister Vasundhara Raje, which will go to Jodhpur division, one of the focus this time will be on cows. Raje will be having a stop at Kolu Pabuji, who is a folk deity (Lok devta) and widely known as the protector of cows and will also be inaugurating a panorama of Pabuji in his honour.
The deity is worshipped by Raibari community, which is present in large number in the area and is one of the communities apart from Gurjars, Rayka etc which come under MBC quota of reservation. A panorama of Pabuji will also be inaugurated by the chief minister Raje on this occasion.
The state government is on spree of construction of "Panoramas" of various local deities and saints across the state and this panorama of Pabuji coming up at Kolu is one such in the process. As the folklore goes to protect the cows, Pabuji had returned from his marriage after taking 3 pheras and died fighting for their protection. The community here is said to be taking 3 pheras instead of 7 in his memory.
Read More: Kerala Floods: India unlikely to accept UAE's Rs 700 crore for flood relief
He is also revered by camel herders in the region who visit his shrine in Kolu. Raje's yatra is expected to reach Kolu Pabuji towards evening time on August 24 and preparations are currently being done for the welcome of the chief minister.
Given the current cases of mob lynching over smuggling of cows in the state, visit Pabu Ji makes it a prominent one. In the first phase of yatra in Udaipur division, Panorama of Rana Raj Singh at Rajsamand jheel area while in Kameri, Panna Dhai panorama was dedicated to the public.