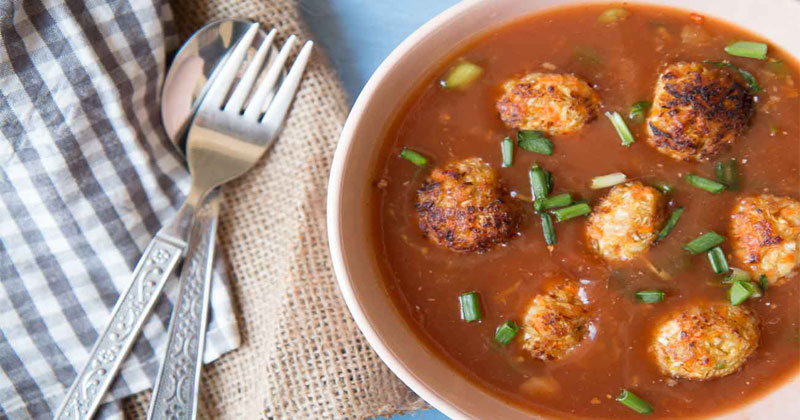 Vegetable Manchurian Balls in Hot and Spicy Orange Sauce is a classic recipe from the Indian Chinese Cuisine, and perfect for dinner.
Vegetable Manchurian Balls in Spicy Orange Sauce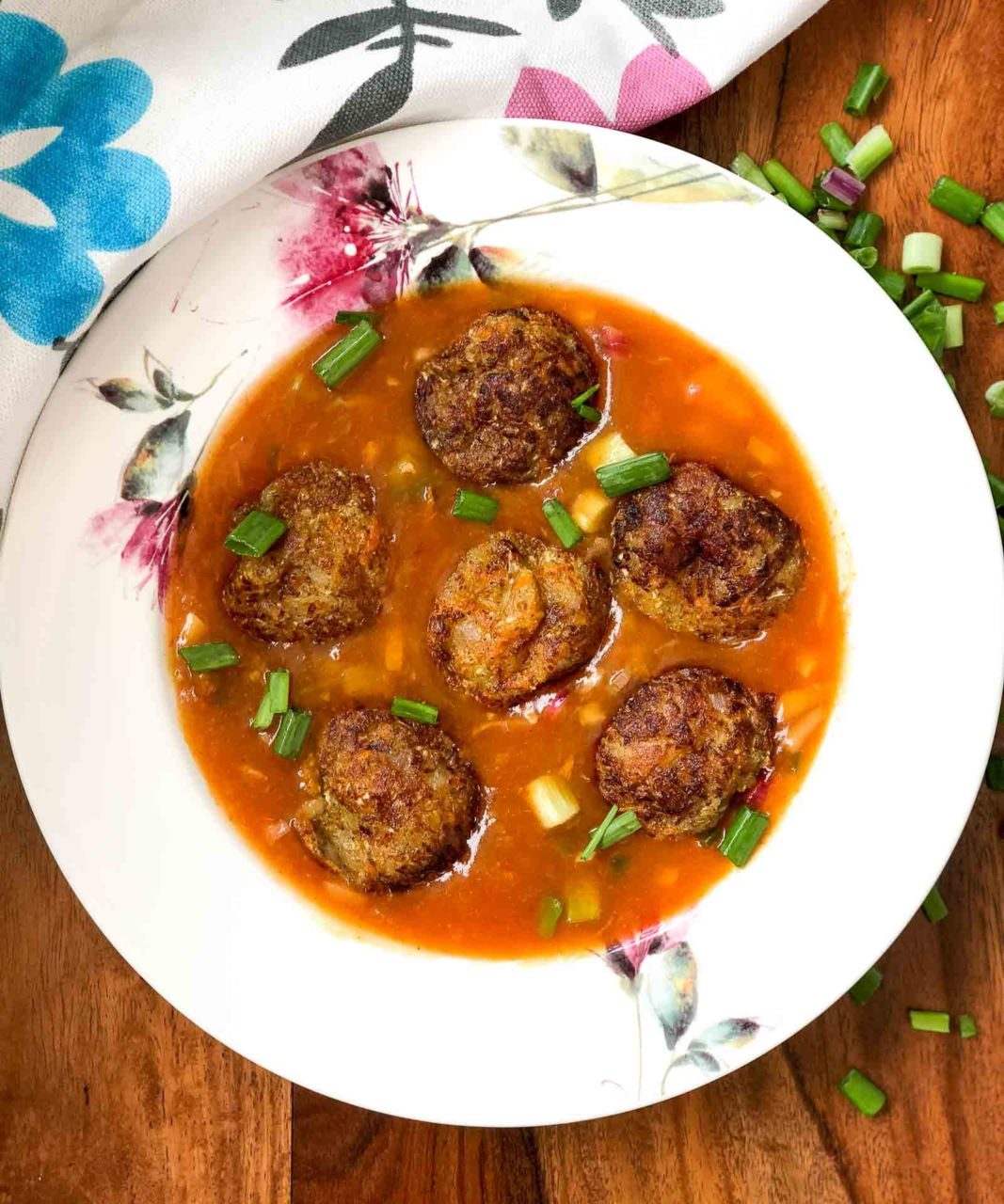 Prep in: 30 minutes
Cooks in: 40 minutes
Total in: 70 minutes
Makes: 4 servings
Ingredients
For Vegetable Manchurian Balls
3 Potatoes (Aloo), boiled and mashed
1 cup Cabbage (Patta Gobi/ Muttaikose), finely minced
2 Carrot (Gajjar), finely grated
1 Onions, finely chopped
2 tablespoons Cornflour, or more if required
1/4 teaspoon Black pepper powder
Salt, to taste
Cooking oil, as needed
For Spicy Orange Sauce
2 teaspoons Cornflour
2 cups Fresh orange juice, from about 5 oranges
1/2 teaspoon Soy sauce
2 tablespoons Red Chilli sauce (Sichuan Sauce)
4 cloves Garlic, finely chopped
2 inch Ginger, grated or chopped
3 Stalks Spring Onion (Bulb & Greens), chopped
2 Green Chillies, finely chopped
1 teaspoon Cooking oil
READ ALSO: Serve Cold Vanilla Ice Cream With Warm Rich Chocolate Almond Brownie
How to make
To begin making the Vegetable Manchurian Balls in Spicy Orange Sauce, the first step is to make the Manchurian Balls.
Use a food processor and finely chop the cabbage and grate the carrots. Boil the potatoes, peel and mash them as well.
Combine all the ingredients for the Manchurian balls in a large bowl . Knead to combine until all the ingredients come together. Divide the mixture into 8 to 10 balls of bite-size or a little bigger.
Preheat the Paniyaram pan and add the Manchurian balls into the cavity. Drizzle some oil and cook until they are done.
Drain the excess oil from the vegetable Manchurian balls from oil in paper towels. Pan fry the remaining balls the similar way and keep aside.
Method for Spicy Orange Garlic Manchurian Sauce
Make the juice from the fresh oranges, such that you get 2 cups of fresh orange juice.
In a small mixing bowl; add in the cornflour along with one ladleful of orange juice. Stir to combine the flour into the juice.
Add soya sauce and the red chili sauce. Stir well and add the remaining orange juice into the sauce mixture and keep aside.
Heat oil in a wok or frying pan on high heat; add garlic, ginger, green chilies, spring onions and stir fry for a few seconds.
Add the cornflour orange juice mixture to the above wok and cook for a few minutes until the spicy orange sauce becomes thick and cooked through.
Check the salt and chili levels in the sauce and adjust to suit your palate and turn off the heat.
When you are ready to serve, pour the sauce into serving bowl and place the pan fried Vegetable Manchurian balls onto the sauce and serve hot. Garnish with spring onion greens to give that good color.
Serve the Vegetable Manchurian Balls in Spicy Orange Sauce along with Fried Rice for a simple and quick dinner.