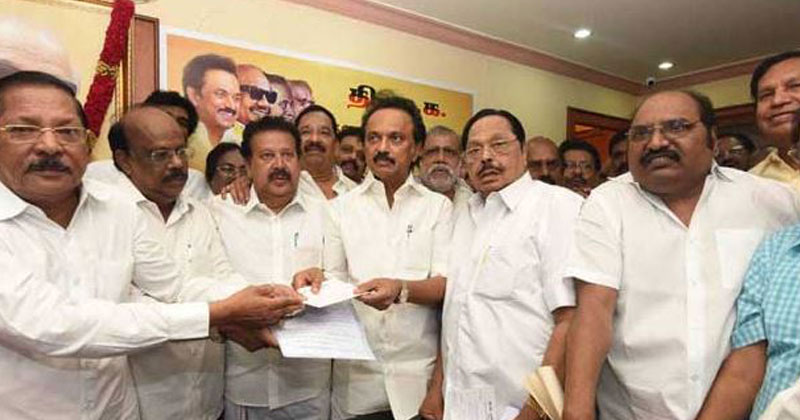 The vacant position of DMK president is soon to be filled in as the nomination papers from candidates flood in.
After a battle between the brothers, MK Stalin has handed in his nomination papers for the President position of DMK party.
DMK working president M K Stalin is all set to be elected, unanimously, as the party president by its general council here on Tuesday. His was the only nomination received by the party organizing secretary R S Bharathi at the DMK headquarters Anna Arivalayam when the nominations closed at 4 pm on Sunday.
Besides Stalin's nomination papers, senior leader and party principal secretary Duraimurugan filed the nomination for the post of treasurer, now held by Stalin.
They are likely to be elected during the party's General Council meeting on August 28 in Chennai.
"No other nominations have been received. The last date for withdrawal is Monday evening and after that, general secretary K Anbazhagan will examine the nominations and announce at the general council meeting on Tuesday", Bharathi told reporters after the two leaders filed their nominations.
READ ALSO:  MK Stalin files Nomination for The Post at Anna Arivalayam
According to Bharathi, all the 65 DMK district secretaries had proposed Stalin's name for the post of president. Durai Murugan too got similar support for his elevation as treasurer. "It's a foregone fact that thalapathi will be elected thalaivar unanimously by the general council on Tuesday", said party senior A. Raja, former Union Minister, thus making clear that sibling Alagiri's threat of revolt and claim of having the support of "all the followers of Kalaignar" did not matter.
Before filing the nomination papers, Stalin and Durai Murugan visited party general secretary Anbazhagan at his Kilpauk house to get his blessings. Stalin also took the blessings from his ailing mother Dayalu Ammal at the Gopalapuram residence before driving with Durai Murugan and other leaders to pay floral tributes at the Marina memorials of DMK founder C N Annadurai and Karunanidhi.
65-years-old Stalin's journey in the DMK began as a 14-year-old school student when he launched the party's youth wing and actively campaigned in the 1967 elections that saw the DMK capture power displacing the Congress party.
The sibling rivalry between Stalin and his elder brother M K Alagiri came to the fore recently, when the latter claimed that true loyalists of Karunanidhi were with him.
Alagiri, who was expelled from the party by Karunanidhi in 2014, has been questioning the leadership of Stalin. He has announced he would lead a peace rally in Chennai on September 5, to the mausoleum of Karunanidhi.