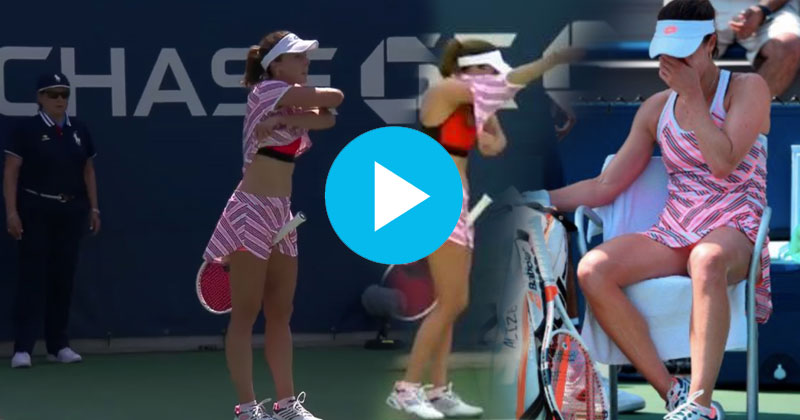 On Aug. 28 at the US Open, French player Alizé Cornet took off her shirt after coming back from a break and discovering it was on inside-out. She briefly revealed herself in a sports bra, shocking the umpire and incurring a code violation for "unsportsmanlike conduct."
Later, the US Tennis Association has acknowledged that a chair umpire incorrectly warned French player Alize Cornet for changing her shirt on the court at the US Open.
Cornet changed out of her sweat-soaked outfit during a 10-minute indoor break because of excessive heat during Tuesday's first-round match. She rushed to get dressed before play resumed, she said, and put her top on backward, but didn't realize there was a problem until her boyfriend pointed it out. That's when standing behind a baseline, Cornet pulled off her shirt and put it back on the right way.
Also Read: Sania Mirza opened about quitting tennis after pregnancy
See Video: 
Source: The Guardian
"Of course, I was surprised when I just changed (the) T-shirt really quick, and he gave me the code violation," Cornet said at a news conference Wednesday. "I didn't expect it, and I told him it was pretty weird."
While women rarely change clothes on the court during professional tennis matches, men switch shirts all the time, usually during changeovers — often to catcalls from the crowd. On Tuesday, 13-time major champion Novak Djokovic sat without a shirt on throughout a changeover as he tried to cool off.
The women's tennis tour, the WTA, called the umpire's warning "unfair," pointed out there was no rule prohibiting what Cornet did and said, "Alize did nothing wrong."
The episode came on the heels of other happenings that sparked a broader conversation about the sport's views of women and men.