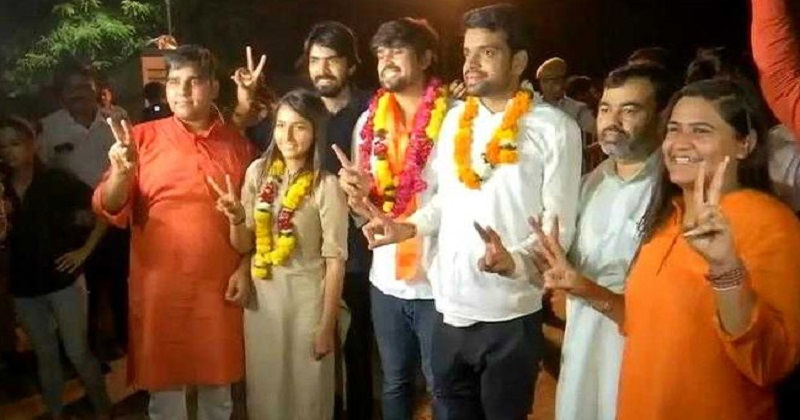 The Akhil Bharatiya Vidyarthi Parishad (ABVP), a student wing of Rashtriya Swayamsewak Sangh (RSS), has won three out of the four top posts in the Delhi University Students Union (DUSU) election on Thursday while the National Students' Union of India (NSUI) has won only one post. ABVP's Ankiv Basoya, Shakti Singh and Jyoti Chaudhary won the elections for the posts of DUSU president, vice president, and joint secretary respectively and NSUI's Akash Chaudhary won the election for the post of secretary.
Basoya got 20467 votes while his rival NSUI's Sunny Chhillar got 18723 votes. Singh received 23046 votes against NSUI rival Leena's 15373 votes. Celebrations broke out with the bursting of crackers and loud cheering at the Kingsway camp counting venue as the results were announced. The supporters lifted the victorious candidates on their shoulders and posed for photos flashing the 'victory' sign.
Earlier in the day, the counting was initially stopped for an hour when there were allegations of faulty EVMs. However, following objections by students, the election officials decided to suspend the counting. But later it resumed. Later, the office of the Chief Electoral Officer clarified that the EVMs used in DUSU election have not been issued by the Election Commission and it seems to have been procured privately.
Also Read: Pakistan elections delayed as Iram Khan's party celebrates victory
PTI quoted sources had said that the ABVP has won 71 seats in 19 colleges. The RSS-affiliated party won in various colleges, including Hindu College, Shri Ram College of Commerce, Kirori Mal College, Bhagat Singh (Morning), Zakir Hussain (Morning), Dyal Singh (morning) colleges in Wednesday's poll.
The NSUI won 75 seats in 20 colleges. They won in Sri Venkateswara College, Atma Ram Sanatan Dharma College, Aryabhatta College, Zakir Hussain College, among others.