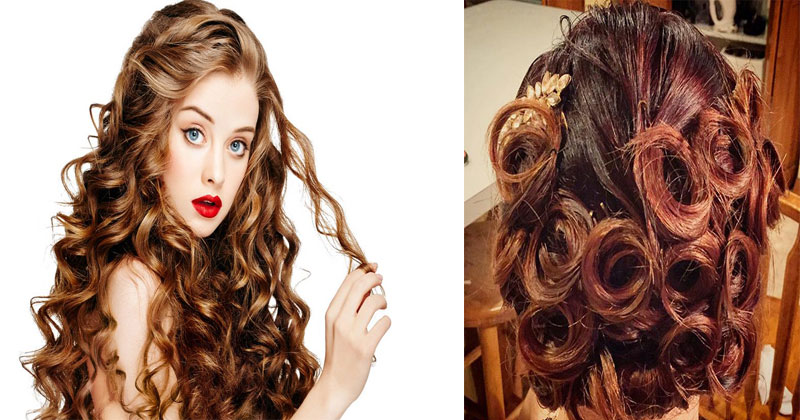 This classic style will never go out of fashion, and it is also a super easy way to curl hair without heat. All you'd have to do is pin your hair before bed to wake up with gorgeous curls in the morning.
You Will Need
Towel
Wide-Tooth Comb
Hair Gel
Hair Pins
Cotton Scarf
Hair Gel
Hairspray
Method
Wash your hair with a good volumizing shampoo and then condition. It would be a good idea to detangle your hair with a wide-tooth comb while you condition it.
Towel dry your hair but ensure that you are gently squeezing excess water out of your hair rather than rubbing your hair with the towel.
Apply some hair gel or any other product that gives you hold.
Section out the crown of your hair. Secure it in a bun. You will be working on this section last.
Take a 1-inch section of your hair from the side wrap the end around your index finger to create a loop. Hold it in place with your thumb and index finger.
Start rolling the section upwards until it is snug against your roots. Ensure that you are rolling the hair up, away from your face.
Hold the rolled up section flat against your scalp and secure it with a hairpin. If the sections are too thick, your hairpins will leave indentations in your hair.
Repeat this process with the rest of your hair. Once you are done with the bottom, work on the crown until all of your hair is secured with pins.
Wrap your hair with a silk scarf to keep the pins in place and go to sleep. The scarf will also help absorb the moisture from your hair.
Wake up in the morning and undo your curls. Only remove the pins when your hair is completely dry. Do not use a blow dryer as it will frizz up your hair and undo curls.
Once you've removed all the pins, gently finger-comb your hair to remove the piecey appearance. Use some hairspray for extra hold.