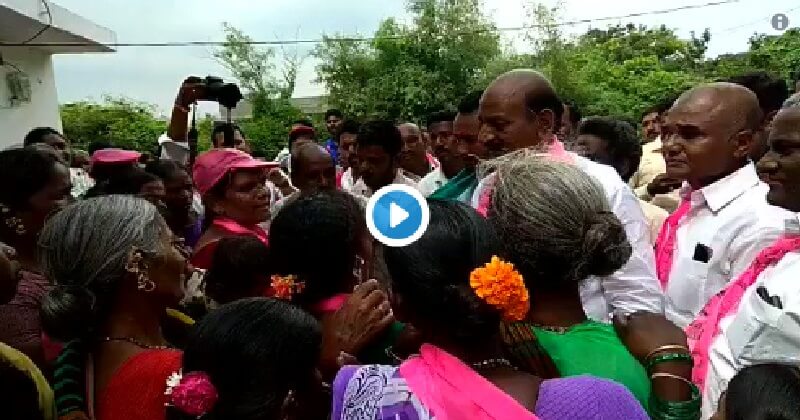 A sitting MLA from Yellareddy, Telangana has made a complete violation of election rules bu offering Rs 5 Lakhs to voters. E Ravinder Reddy, from Telangana Rashtra Samithi Party, has been caught on camera promising voters Rs 5 lakh if he is elected to the Assembly, unopposed. The MLA was seen telling a group of villagers to form 50 units, conduct meetings and find ways to elect him unopposed. It now remains to be seen if Ravinder Reddy will be booked by the Election Commission as the Model Code of Conduct has come into force since Thursday. Here is the video which has gone viral.
Tough customers. Hard bargaining. Cash for support. #telanganaelections pic.twitter.com/9I4yATSJiN

— Sushil Rao (@sushilrTOI) September 27, 2018
As he promises to give them Rs 5 lakh, voters complain that Rs 5 lakh is not enough. Interestingly this is the third instance of a poll code violation by the TRS to be caught on camera.IT was three days ago that a video of caretaking Transport Minister P Mahender Reddy surfaced in which a group of Muslim men could be seen pledging their support to him in a mosque. Similarly, TRS candidate from Armoor, A Jeevan Reddy, made devotees at a Ganesh pandal promise their support to him by taking oath in front of the deity.
Telangana Congress had made a complaint with the State Election Commission. But, it looks like that the Commission has not taken a serious view of the situation as the Model Code of Conduct was yet to be implemented then.
"There were some newspaper reports and complaints too. Since the Model Code of Conduct is not on, if a voter takes oath, I don't think it falls within the purview of electoral code violation. But we have asked the district electoral officer concerned to give a report on that," state Chief Election Officer Rajat Kumar told PTI.