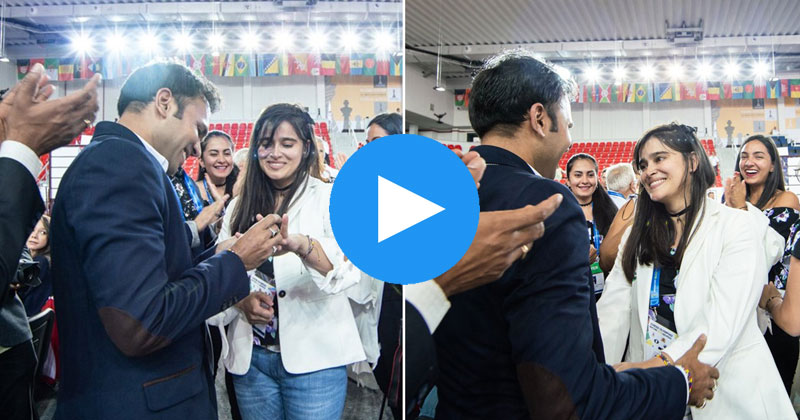 Indian chess player-turned-journalist Niklesh Jain decided to not go for a mainstream proposal when it came to asking for his girlfriend's hand in marriage. Not choosing to go to a fancy restaurant or a five-star hotel, Niklesh proposed to his girlfriend Angela Franco at the ongoing Chess Olympiad in Georgia on Tuesday.
Angela, a Colombian chess player and a participant at the tournament, was about to begin her match when Niklesh went down on his knees and proposed to her with a ring.
Taken aback at first, Angela happily accepted the proposal amidst the loud cheering from the participants.
Proposta di Matrimonio ?? alle Olimpiadi?? ?

Ieri, prima dell'inizio del 2° turno, il giornalista di scacchi indiano ?? @nikchess ha chiesto la mano della WGM colombiana ?? Angela Franco! Lei ha detto "SÌ"! ?

Foto ©? https://t.co/2NU3iDBjby#scacchi #BatumiChess2018 pic.twitter.com/EXFVtthXtY

— Chess.com – Italiano (@chesscom_it) September 26, 2018
Talking to the media, Niklesh said that a chess tournament was the perfect place for a chess player for a special moment like this.
Niklesh and Angela, who have been dating for 1.5 years were cheered on social media as well.