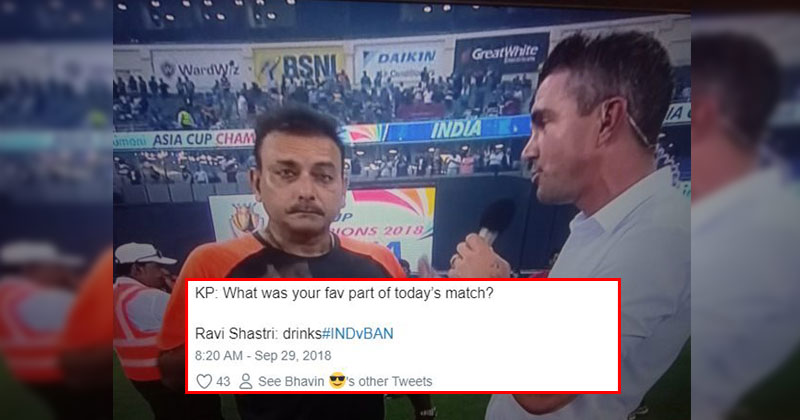 The head coach of Indian cricket team, Ravi Shastri is a favorite of Twitterati and they troll him whenever they get a chance. Yesterday, team India won the Asia Cup by defeating the Bangladeshi team by 3 wickets. It was a nail-biting match with winning run scored on the last ball of the Indian innings.
Ravi Shastri has been criticized a lot by fans as India didn't perform well in England and now, yesterday's match also proved that something is wrong with the team. India may have won the match but the way the team performed, it never felt that it is number 2 team of the world in ODIs.
Ravi Shastri has a reputation of a drunkard and his facial expressions also strengthen the belief of people about his drinking habits. A photo is going viral on the Internet in which Kevin Pieterson is seen interviewing Ravi Shastri and the Indian head coach seems to look as if he is under the influence of an intoxicated substance.
This gave Twitterati enough fodder to take a jibe at him and soon the micro-blogging site got flooded with hilarious jokes and trolls that are too funny to miss!