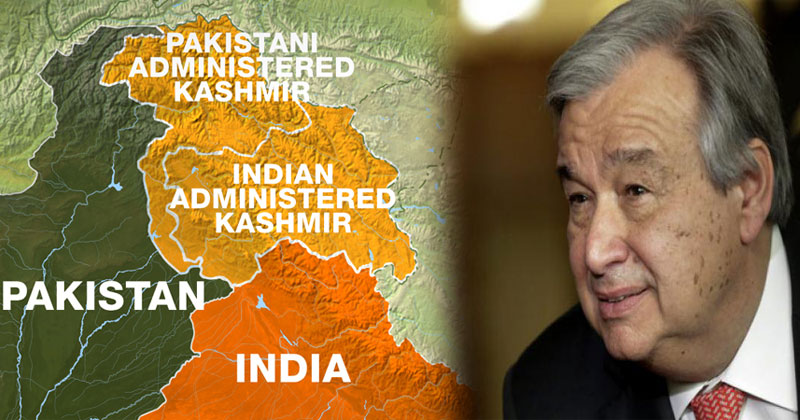 On Monday the UN Secretary-General Antonio Guterres had received a message from Kashmir.
The letter comes ahead of his 3-day trip to India.
The letter was jointly written & signed by Hurriyat Conference chief Syed Ali Shah Geelani, All Parties Hurriyat Conference Chairperson Mirwaiz Umar Farooq and Jammu and Kashmir Liberation Front chief Yasin Malik.
Read the letter on political leader Mirwaiz Umar Farooq's Twitter handle:
As the UNSC @antonioguterres arrives in India,JRL writes to him highlighting the current political situation in #Kashmir & urges him to use this opportunity to press for resolution of #KashmirDispute & put pressure on the GOI to stop HR violations. https://t.co/NEJY97VL6v pic.twitter.com/ukZPAFKRYc

— Mirwaiz Umar Farooq (@MirwaizKashmir) October 1, 2018
But will India accept this 3rd party intervention in the Kashmir issue, which so far was rejected, Farooq said: "We're optimistic because the UN's Human Rights Commission has in a recent report expressed its concern on the human rights situation in Jammu and Kashmir. The Secretary-General too has said that he is concerned over the situation in the State".
Since Kashmir was already on the UN Security Council's agenda, Guterres "will be only fulfilling his official as well as moral responsibility if he discusses Kashmir and the grave situation prevailing here with the Indian leadership and asks it to sit across the table with the Kashmiris and Pakistan to arrive at an amicable solution," Farooq added.
Antonio Guterres too is concerned of Jammu Kashmir's situation. Guterres said: "I remain concerned by the situation in Jammu and Kashmir—I encourage positive dialogue for disagreements to be resolved peacefully."
During his visit, he is scheduled to meet President Ram NathKovind, Prime Minister Narendra Modi and foreign minister Sushma Swaraj.
He was also invited by the Centre for Social and Development Studies (KCSDS) to visit Jammu Kashmir for an on-the-spot assessment of the situation, but the offer was rejected because of his prior commitments.