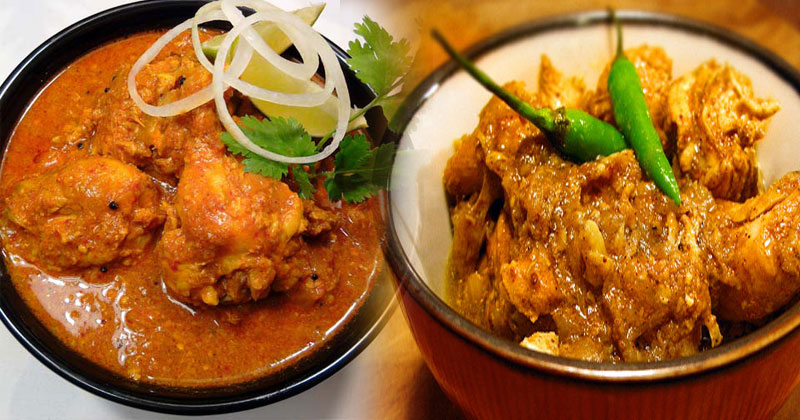 Goan Chicken Vindaloo is the perfect chicken curry recipe for a weekend recipe with rice.
Goan Chicken Vindaloo
Prep in: 10 minutes
Cooks in: 40 minutes
Total in: 50 minutes
Makes: 5 servings
Ingredients
500 grams Chicken, cut into curry cut pieces
2 Onions, chopped
1 Tomato, chopped
1/4 cup Homemade tomato puree
1 tablespoon Cooking oil
2 Green Chillies, chopped
1 tablespoon Tamarind, washed and soaked in hot water.
Coriander (Dhania) Leaves, as required, chopped to garnish
Salt, to taste
For the marinade:
1 teaspoon Cooking oil
8 cloves Garlic
1/2 inch Ginger
5 Kashmiri dry red chilli
1/2 tablespoon Mustard seeds
1/2 tablespoon Black peppercorns
1 teaspoon Cumin (Jeera) seeds
1 tablespoon Coriander (Dhania) Seeds
1/2 teaspoon Methi Seeds (Fenugreek Seeds)
3 Cloves (Laung)
1 inch Cinnamon Stick (Dalchini)
4 tablespoon Vinegar
1/2 teaspoon Turmeric powder (Haldi)
1 teaspoon Jaggery
1/2 teaspoon Salt, or to taste
READ ALSO:  Easy Creamy Chicken Curry-Simple North Indian Chicken Curry Recipe
How to make
To begin making the Goan Chicken Vindaloo, heat 1 teaspoon oil in a heavy bottomed pan. Add the ginger, garlic and saute till they start softening and browning just a little.
Next, add the black peppercorns, mustard seeds, cumin seeds, coriander seeds, fenugreek seeds, cloves, cinnamon stick and Kashmiri red chillies and roast on low flame.
In about 4 minutes, the coriander seeds will start to brown and the masalas will start to roast and smell.
Turn off the heat and let the masalas cool down. Once cool, transfer to a blender along with vinegar, salt, turmeric and jaggery.
Add about 3-4 tablespoons water and blend to a smooth paste.
Marinate the chicken with this paste for at least 2 hours or up to 24 hours
The next step is to make the curry for the chicken vindaloo. Heat the 1 tablespoon oil in a heavy bottomed pan.
Once the oil is hot, add the green chillies and onions. Let it cook till the onions become golden brown.
Once the onions are cooked, add the tomatoes and cook till they become soft and mushy. Once it is done, add the tomato puree and let it cook for about 2 to 3 minutes.
After 2 to 3 minutes, add the marinated chicken and the remaining marinade mixture. Mix everything well and let it cook for about 10 minutes. If the Chicken Vindaloo becomes too dry, add some water and mix again.
Add 1 cup of water and cook the Chicken Vindaloo on medium flame, covered for 25-30 minutes till the chicken is falling off the bone. Once done, turn off the heat and check the seasonings and adjust to taste. Transfer the Chicken Vindaloo to a serving bowl and serve hot.
Serve Goan Chicken Vindaloo along with rice and a salad of your choice.