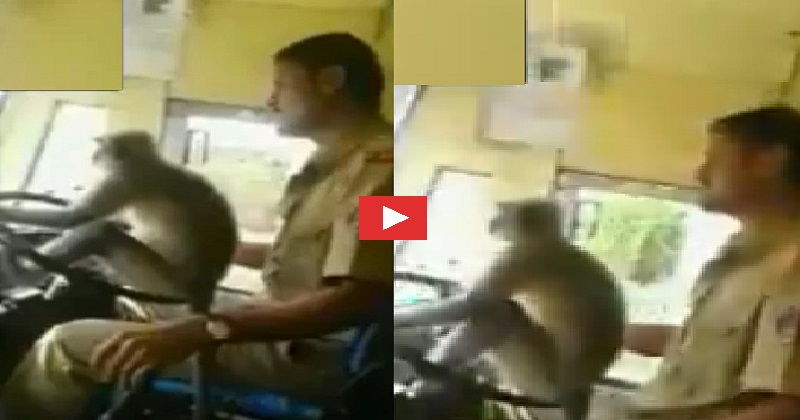 With all the news of bus accidents that goes around, one can only hope that the drivers handling the people mover will be a little more careful. But your confidence in the bus journeys won't get any better if you see this video. A video of a bus driver in Karnataka driving with a langur sitting on the steering wheel has gone viral on social media. For putting the lives of the passengers in danger, the bus driver has been rightly suspended.
The video was shared by news agency ANI on their Twitter handle. In the video, a langur can be seen sitting on the steering wheel as the driver drives the KSRTC  (Karnataka State Road Transport Corporation) bus.  Check out the video here:
#WATCH Viral video from Karnataka's Davanagere of a KSRTC bus driver driving with a Langur perched on the steering wheel. The bus driver has been suspended for endangering the lives of the passengers. pic.twitter.com/RexZAfKZdr

— ANI (@ANI) October 6, 2018
Reactions opposing and supporting the suspension have poured in. Take a look at some of the Twitter reactions.
So sweet. Why suspend. He should have been warned to not repeat this.

— Parag Hede ???? ???? (@Indepthcomments) October 6, 2018
He should not be suspended.he should be given a chance

— Anup Atram (@anupatram89) October 6, 2018
https://twitter.com/rav_rocks/status/1048451885676544005
Good that action is taken and he is suspended, but clearly he is in wrong job, this man is a sensitive animal lover (see how langur trusts him) and could be an asset in wildlife related jobs. But unfortunately Indian authorities/decision makers are too incompetent to value these.

— Deconstructionist? (@depalan) October 6, 2018
https://twitter.com/AgrTweet/status/1048453500978388992