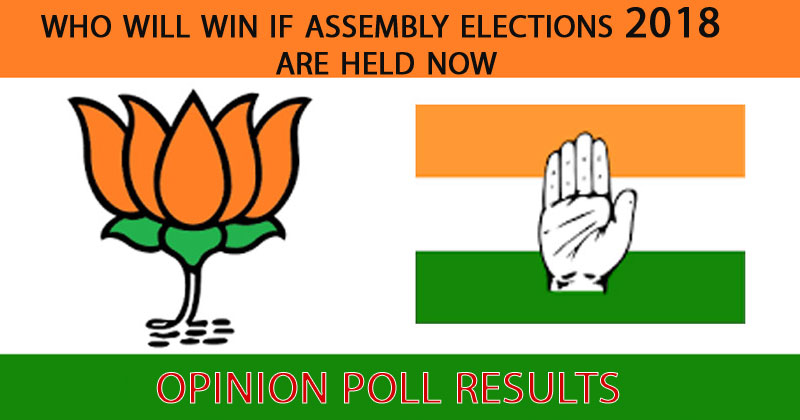 The Bharatiya Janata Party (BJP) would fail to retain power in Madhya Pradesh, Rajasthan and Chhattisgarh, an opinion poll by ABP News-C-Voter has predicted. As per the survey, the Congress party is best placed in Rajasthan, while its state president Sachin Pilot is the most preferred choice for the chief minister's post.
Pilot leads Vasundhara Raje as the popular choice for CM with 36 percent voters preferring him, while the latter is the first choice for 27 percent. Former chief minister and Congress leader Ashok Gehlot enjoy the backing of 24 percent voters.
In Madhya Pradesh and Chhattisgarh as well, the Congress party could defeat incumbent BJP and make a comeback in these states after a long gap. However, Madhya Pradesh Chief Minister Shivraj Singh Chouhan and his Chhattisgarh counterpart Raman Singh are the first choice of the voters for the hot seat, despite anti-incumbency sentiments against their governments.
As per the opinion poll, if the Assembly polls are held now, the Congress is likely to win 142 seats in Rajasthan against the BJP's 56. In Madhya Pradesh and Chhattisgarh, the Congress party could get 122 and 47 seats respectively. The BJP on the other hand, has been projected to bag 108 and 40 seats in these two states respectively.
Earlier in 2013, the BJP had secured power in all the three states in 2013 by winning 165, 142 and 49 seats in Madhya Pradesh, Rajasthan and Chhattisgarh respectively as against the 58, 21 and 39 seats of the Congress.
On Saturday, the Election Commission (EC)) had announced that the Assembly polls in Chhattisgarh, Madhya Pradesh, Mizoram, Rajasthan, and Telangana will be held between November 12 and December 7. While Chhattisgarh will go to the polls in two phases on November 12 and 20, the elections in Madhya Pradesh and Mizoram will be held on November 28. Polling in Rajasthan and Telangana will be held on December 7. Counting of votes will be taken up in all the five states on December 11.