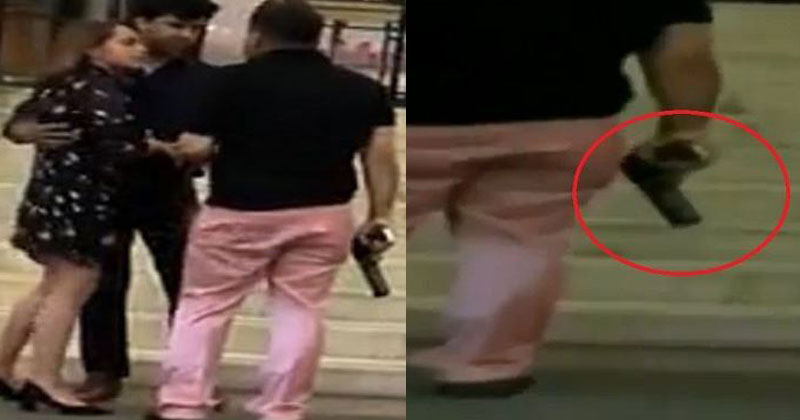 A video has gone in which an MP's son was seen brandishing a gun in front of a 5-star hotel.
The ex-BSP MP Rakesh Pandey's son Ashish Pandey was spotted outside a 5-star hotel threatening a couple in public. Ashish Pandey is also the brother of BSP MLA.
The 10-second video showed Pandey threatening the outside Hyatt Regency Hotel on the intervening night of last Saturday (13th) and Sunday (14th).
See video uploaded by ANI, reposted by NAGPUR TODAY:
It has been learnt that Pandey was involved in a minor scuffle outside the hotel with the couple post which he threatened them and brandished a pistol. Before leaving in his car, he reportedly warned the couple that he will see them if they don't apologize to him.
The police have registered a case under the Arms Act. The hotel did not report the incident till Monday.
The police have not named any accused in the case and are investigating the matter. Also, no arrests have been made so far in connection with the incident. The Delhi Police said in a statement that the incident happened at 3 am on October 14 and they registered the case on their own. "No complainant has come forward in the case and we have registered the case under the Arms Act against an unknown suspect. Identity will be ascertained soon," the police statement said.
"A complaint from Assistant Security Manager, Hyatt Regency Hotel, R K Puram, has been received regarding the incident that occurred on the intervening night of 13/14 Oct 2018.  A male is seen brandishing a weapon in the footage. Accordingly, a case U/S 25/27 Arms Act has been registered. Efforts are on to identify the person. Legal action is being taken as per law," the statement added.
But what is more shocking is his Facebook account where he was seen posing with various types of guns.