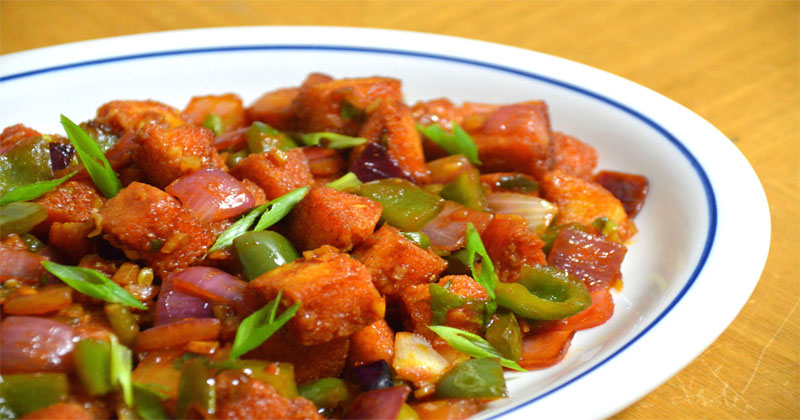 Chilli idli recipe-A very delicious and spicy south Indian snack recipe with idlis, fried idlis tossed in spicy south Indian masala!
INGREDIENTS
4-6 idlis
2 tablespoons corn flour
1 large onion,finely chopped
2 large tomatoes finely chopped
2-3 green chillies slit
2 teaspoons crushed ginger-garlic
2 teaspoons tomato sauce (optional)
½ teaspoon chilli powder
½ teaspoon Turmeric powder
1 teaspoon sugar
10-12 Curry Leaves
½ teaspoon Lemon juice
Salt
Oil for deep frying
INSTRUCTIONS
Cut the cold idlis into bite sized cubes. Mix cornflour,rice flour and little salt in a bowl and toss the idlis. Set aside for 5 minutes.
In the meantime finely chop the onion,tomatoes,cube the bell pepper, slit or finely chop the green chillies and crush the ginger garlic.
Heat oil for deep frying and fry the idli cubes in hot oil in medium high flame. They should become golden brown and crisp. Remove to a kitchen towel and set aside.
Remove the oil from the pan leaving about 3 teaspoons. Temper with cumin,green chillies,ginger garlic and saute well for 4-5 minutes. Add curry leaves and saute well.
Add the finely chopped onions and saute till they become translucent.
Add the chopped tomatoes and mix well and saute till it turns mushy.
Add the cubed bell peppers,salt,sugar,chilli powder,turmeric powder and tomato sauce (if using). Mix well and cook till the masala leaves out oil.
Add the fried idlis and mix gently.
Remove from flame and add lemon juice. Serve chilli idly hot with more chopped onions and lemon wedges.