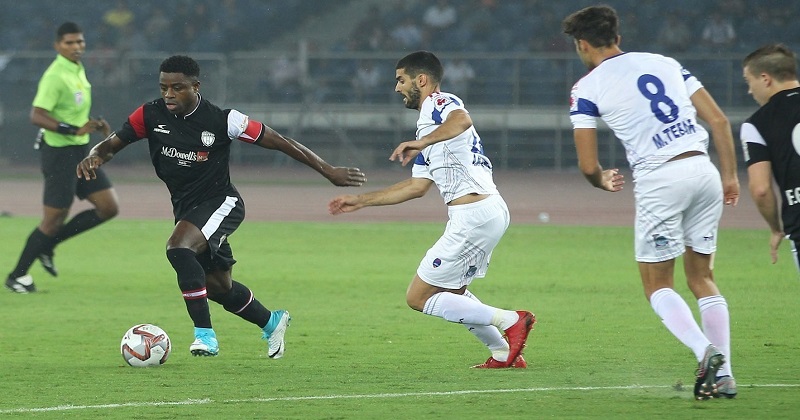 NorthEast United registered a convincing 2-0 win against Delhi Dynamos at the JLN Stadium in Delhi on Tuesday. Federico Gallego (82′) scored a stunning goal before assisting Bartholomew Ogbeche (90′) to help the Highlanders climb to the top of the table in the Indian Super League (ISL).
Marcos Tebar returned from injury and Nandhakumar Sekar and Shubham Sarangi made their way back into the starting XI for the hosts.
Mislav Komorski's suspension meant Eelco Schattorie had to bring in Gurwinder Singh at centre-back. Juan Mascia made his full debut for the club as Keegan Pereira was eased onto the bench after having sustained an injury in the first game.
The tune of the first half went the visitor's way. Redeem Tlang and Bartholomew Ogbeche played a one-two at the edge of the box before the former PSG forward clipped a shot onto the crossbar and set the tempo for the game.
The hosts had a big chance to take the lead against the run of play when a long punt up the field by Marti Crespi fell perfectly for Kaludjerovic at the edge of the box. The forward played a one-two with Marcos Tebar before trying to curl a shot into the net. Grgic threw his body onto the floor to block the effort and deny Delhi a shock lead.