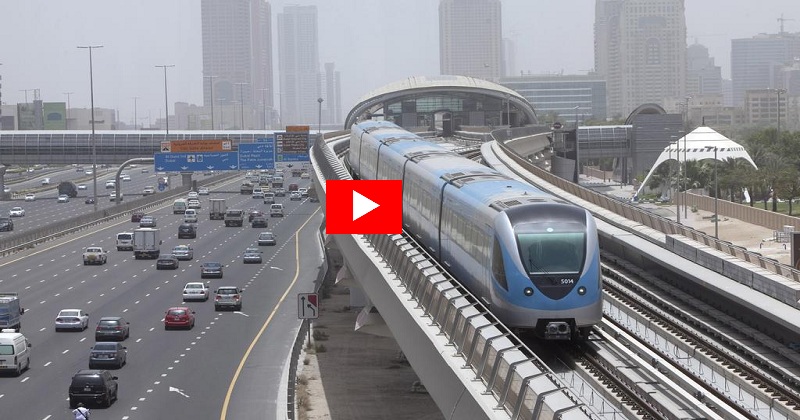 Dubai breaks yet another Guinness World Record on Thursday. , this time for the most number of nationalities riding the metro together.
The feat, which saw commuters coming from 96 countries hopping on the Metro and forming a human chain, was the culmination of the week-long celebration of Public Transport Day organised by the Roads and Transport Authority (RTA).
Sheikh Nahyan Bin Mubarak Al Nahyan, UAE Minister of Tolerance, and Mattar Al Tayer, RTA director general and chairman of the board of Executive Directors, received the title from Guinness World Records adjudicators at the Etisalat Metro Station. It broke the previous record of 75 nationalities set by Norway in 2013.
"The achievement comes at a very opportune time as we are also celebrating the UAE Flag Day. We are a country of 200 nationalities and this shows the harmony and tolerance in the country that unite us together," said Al Nahyan.
The event is also part of the RTA's 13th anniversary celebration and in line with its mandate to support Dubai's efforts to improve the environment and achieve sustainable development by encouraging the public to use mass transit.
Al Tayer said: "The public transport network has become the backbone of people mobility in Dubai. The number of public transport riders has soared from 163m riders in 2006 to 551m riders in 2017."

"From January to the end of September this year, the public transport network has attracted 410m riders. The Dubai Metro Red and Green lines have served about 1.2 billion riders from the launch of the service in September 2009 to the end of August last."
"Accordingly, the share of public transport in peoples mobility has grown steadily from 6 per cent in 2006 to as much as 17 per cent in 2017, and the RTA is seeking to push it to 30 per cent by 2030," he added.