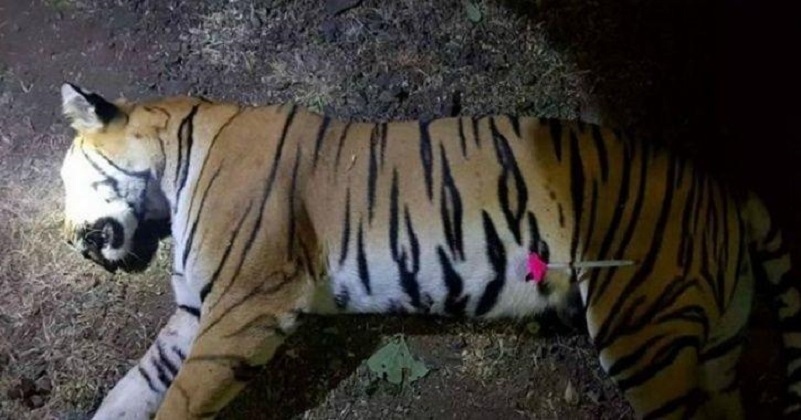 After three months widespread search for in the Pandharkawada-Ralegaon forests of Yavatmal district in eastern Maharashtra the alleged man-eating tigress Avni was shot to death.
The five-year-old Avni had suspected of more 13 killings.  The Supreme Court has ordered in September to kill the tigress.  The tigress was a severe danger to the inhabitants for the last two years..
Avni was killed by Askar Ali. Askar is the son of famous shooter Nawab Shafat Ali. He used a unique technique to catch the attention of the tigress. Using an American Perfume and the Urine of another female tigress, he attracted the tigress to the planned area.
The tigress was first found at this forest on 2012.  She has left behind two cubs of 10 month age.
Avni or T-1 tigress was given a death sentence by Maharashtra Forest Department and Bombay High Court, for allegedly killing 13 people in Maharashtra.   Maharashtra Forest Department says that the tigress had killed 13 people during the last two years.  The Nagpur bench of Bombay High Court has approved the plea to kill the tigress instead of catching it alive.
For nearly three months, equipped with the latest technology, 150 ground personnel, elephants and so-called expert trackers and shooters were on a quest to find Avni.
The man-eater has been a cause of concern with the Maharashtra government and environmentalists for the last few months. Activists across the country have been protesting against the tigress' killing with online petitions and rallies, using the hashtag #letAvnilive.