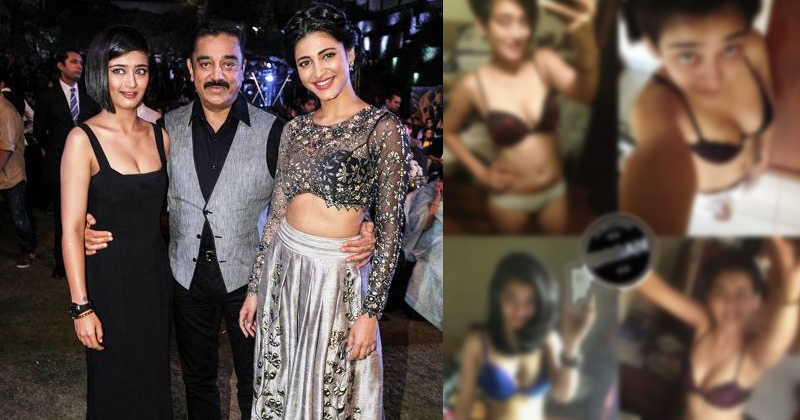 In a shocking incident of cybercrime, some private pictures of Akshara Haasan wearing inner-wear have been leaked on social media, and have now gone viral. Daughter of famous actor Kamal Haasan and Sister of Shruti Haasan, Akshara had made her acting debut with the movie Shamitabh in 2015.
Akshara is not someone who generally makes headlines for any controversial stuff, but her leaked photos in which she is seen taking selfies wearing inner-wear has left everyone shocked.
https://www.instagram.com/p/BppAsI1BOi5
Looking at the pictures, it appears that Akshara clicked the pictures privately in a room, but somehow they have been leaked on social media. The images are circulated on Twitter and Instagram.
https://twitter.com/ActressDeewana/status/1058252240186568704
It cannot be said with confidence that the photos are genuine, but it is also not confirmed if the pictures are morphed. All the pictures have been clicked by Akshara herself. All of Akshara's private photos going viral on social media are selfies in inner-wear.
https://twitter.com/actress_boners/status/1058302081394589696
This is not the first time that a Bollywood actress' private pictures and videos have leaked online. A lot of actresses have become a victim to such incidents where their intimate moments and pictures captured on camera were leaked online.