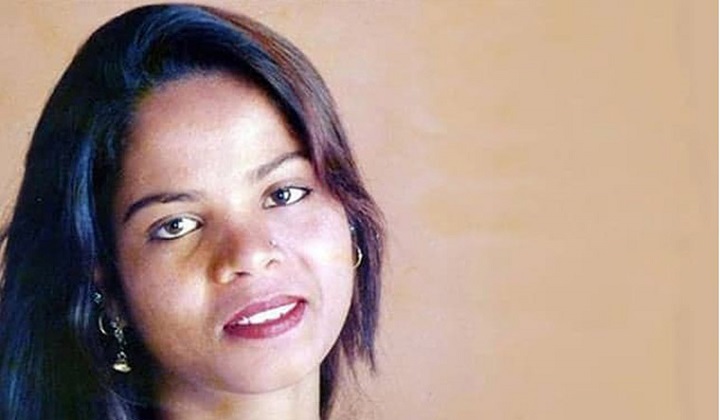 The Pak foreign office spokesperson Mohammad Faisal clarified that   Asia Bibi was is in fact, still in the country. "There is no truth in reports of her leaving the country—it is fake news,".
Asia Bibi, or Asia Noreen, was released from Multan jail last night; 10 days after the Pakistan Supreme Court overturned her conviction and death sentence.
In the middle of the night, breaking news in many media outlets had claimed that Asia Bibi was released from jail and that she was on her way to an "unknown destination". Reports claimed that she was taken to the Noor Khan Airbase, Rawalpindi, from where she would be shifted. News agencies had reported that Asia Bibi was to be flown to the Netherlands in a chartered plane.
Asia Bibi, a 47-year-old mother of four and a Christian, was convicted in 2010 under the blasphemy law after being accused of insulting Islam in a row with her neighbours. She always maintained her innocence but has spent most of the past eight years in solitary confinement.
The Minister for Information and Broadcasting Fawad Chaudhary called out "irresponsible" behavior of media outlets that were reporting "fake news" without "confirmation".
According to  Pak daily 'Dawn', Asia Bibi's lawyer Saiful Mulook had said that she was being flown to an "unknown destination". This particular quote led to speculation that she had left the country.
The Dawn story also reports that its reliable sources confirmed that Asia Bibi was brought to Islamabad onboard a special aircraft which landed at the old Benazir Bhutto International Airport, which is adjacent to the Noor Khan Airbase. From there she was taken, under tight security, to an undisclosed place.
Asia Bibi's whereabouts will be kept secret as there is a heavy threat to her life from hard-line Islamic activists. The Pakistan Supreme Court's landmark verdict acquitting Asia Bibi of blasphemy charges had sparked countrywide protests and death threats from hardline groups.
Protestors led by Tehreek-i-Labaik Pakistan and other groups had blocked major highways and roads in different parts of the country. However, the TLP later called off its agitation following an agreement with the government that assured initiation of a legal process to place the woman on the exit control list that will prevent her from flying abroad. It was also agreed upon that the government would also not oppose a review petition filed against the Supreme Court's judgement in the Asia Bibi blasphemy case.
Earlier, Italy had said that it was working to help Asia Bibi leave Pakistan, amid warning from the woman's husband that her life was in danger. Her husband, Ashiq Masih, had also urged US President Donald Trump and the UK and Canada premiers to help her leave Pakistan.