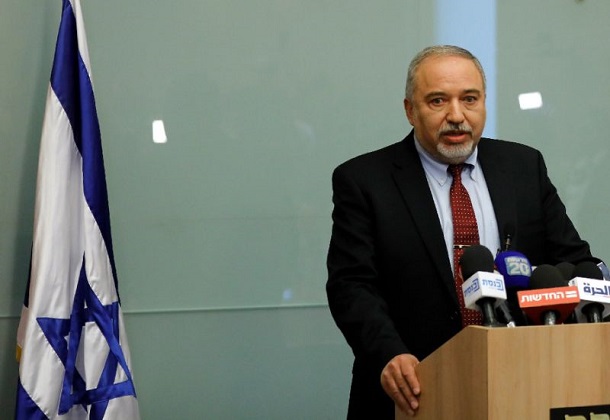 Israeli Defence Minister Avigdor Lieberman announced his resignation on Wednesday and called for early elections after a sharp disagreement over a Gaza ceasefire deal.  He called the ceasefire deal as  " capitulation to terror".
He also said his party was quitting Prime Minister Benjamin Netanyahu's coalition, leaving the premier with only a one-seat majority in parliament.
Lieberman heads the right-wing Yisrael Beitenu party, which holds five seats in the 120-seat Knesset, or parliament.
Elections are not due until November 2019, but Lieberman's resignation increases the likelihood of an earlier vote.
Meanwhile, Netanyahu has defended yesterday's ceasefire deal that ended the worst escalation between Israel and Palestinian militants in Gaza since a 2014 war.
Israel has fought three wars in Gaza since the Palestinian militant group Hamas took over the enclave in 2007.
The latest outbreak began on Sunday with a botched Israeli special forces operation in Gaza that turned deadly and prompted Hamas to vow revenge. Palestinian militants responded with rocket and mortar fire. An anti-tank missile hit a bus that Hamas says was being used by Israeli soldiers. A soldier was severely wounded in the attack.
More than 460 rockets have been fired into Israel by militants since Monday night, while Israeli aircraft have hit 160 militant targets in response. Seven Palestinians were killed in Gaza as Israeli strikes targeted militants and flattened buildings. Violence continued on a lower scale today, with Palestinians saying a Gaza fisherman was shot dead by Israeli forces. An Israeli military spokeswoman said the troops across the border identified a suspect approaching the Gaza fence and opened fire at him. In a separate incident, the military said troops captured a Palestinian who tried to cut through the fence and threw grenades at them.