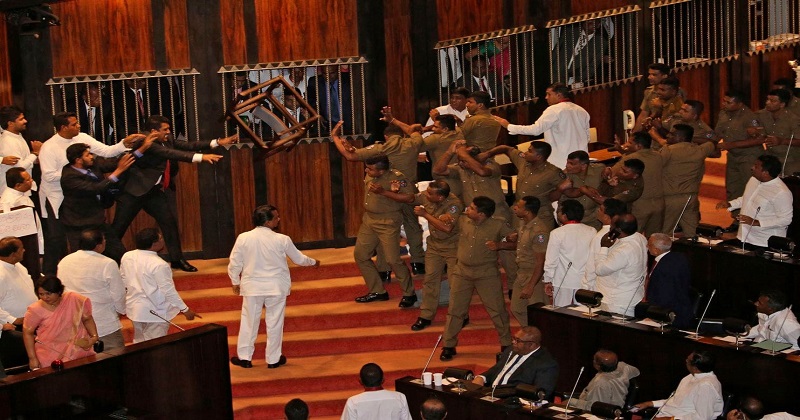 Rival Sri Lankan lawmakers threw chilli powder and furniture at each other and disrupted the proceedings of Parliament for a second day on Friday, forcing Speaker Karu Jayasuriya to summon police inside the House and adjourn the session until Monday.
The brawl occurred a day after the Speaker announced there is no prime minister or government following a no-confidence motion against disputed prime minister Mahinda Rajapaksa.
Friday's proceedings were to repeat the floor test which was disrupted on Thursday. President Maithripala Sirisena, who installed Rajapaksa as prime minister last month in a controversial move, had agreed for a floor test with the leaders of ousted prime minister Ranil Wickremesinghe's coalition during crisis talks last night.
The MPs supporting Rajapaksa took over the seat of the Speaker, delaying the proceedings, officials said. They shouted slogans against Jayasuriya broke furniture. Some Rajapakse loyalists were also seen throwing chilli powder at rival legislators and police, Colombo Gazette reported.
The Speaker summoned police inside Parliament chamber after 45 minutes of disruption. One of the rioting MPs Arundika Fernando occupied the seat of the Speaker with more MPs surrounding it. Gamini Jayawickrema Perera, a senior parliamentarian, was injured in the melee.
The rioting United People's Freedom Alliance (UPFA) members demanded the arrest of two legislators Palitha Thewarapperuma and Ranjan Ramanayake of Wickremesinghe's United National Party (UNP).