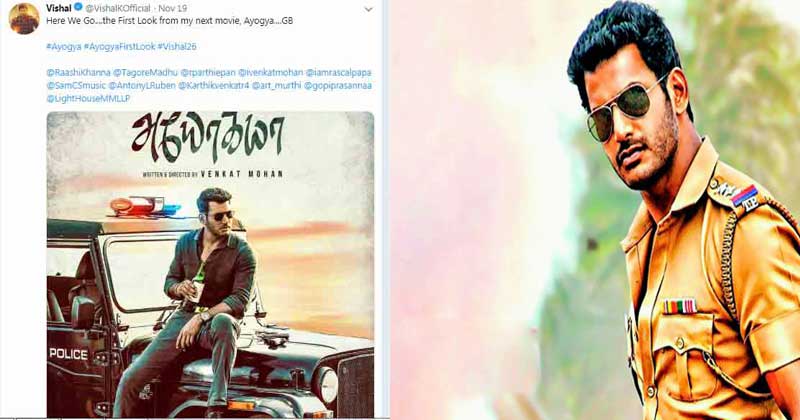 Tamil actor and general secretary of the actors body 'Nadigar Sangam', Vishal has courted controversy by posing with what appeared to be a beer bottle in the first look poster of his next movie 'Ayogya', drawing flak from the PMK.
Vishal shared the poster in his twitter handle saying 'Here We Go….The First Look from my next movie, Ayogya…"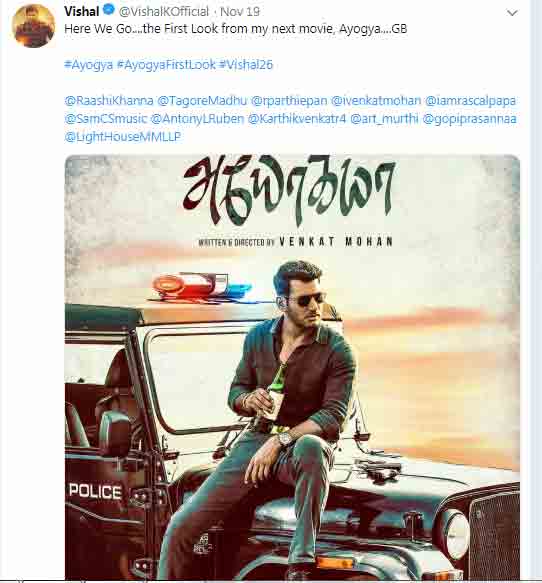 Pattali Makkal Katchi founder leader S Ramadoss slammed Vishal saying he expected social responsibility from him.
"The first look poster in which actor Vishal appears with a beer bottle should be immediately withdrawn," the top PMK leader said on his twitter handle. "What is that the actor tries to convey through this promotional material? I expect social responsibility from the general secretary of Nadigar Sangam."
The PMK chief recalled that he had written to Vishal (since he was the general secretary of the actors body) seeking a ban on actors smoking on screen. "Going beyond smoking, he is posing with beer bottle. What a social responsibility,?" he asked sarcastically.
The first look poster of Vijay-starrer 'Sarkar' too had invited the wrath of the PMK and anti-tobacco groups months ago since the actor had posed smoking a cigarette for it. The poster was subsequently withdrawn and not used for promotion of the movie.
Vishal's film written and directed by Venkat Mohan features the popular actor as a police officer and Rashi Khanna pairs with him in the flick.