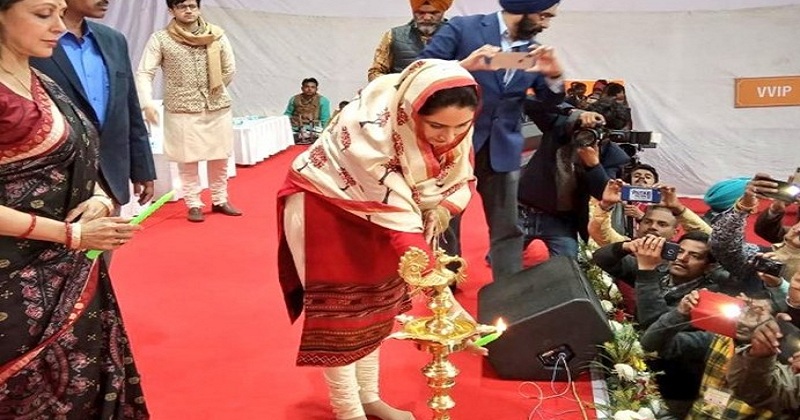 Union Minister for Food Processing Industries Smt Harsimrat Kaur Badal today laid the foundation stone for M/s Nandvan Mega Food Park Private Limited located in Badawal, Chhata-Barsana road in Mathura in Uttar Pradesh. Also present on the occasion today were Smt. Hema Malini, Member of Parliament from Mathura, Uttar Pradesh, Lakshmi Narayan Chaudhari, Minister of Dairy Development, Govt. of Uttar Pradesh and Krish Iyer, President and CEO of Walmart India.
The Mega Food Park is being set up in 57.41 acres of land at a cost of Rs. 120.77 Crore. The government of India has approved financial assistance of Rs. 50.00 Crore to the project. The facilities being created by M/s Nandvan Mega Food Park Private Limited at Central Processing Centre (CPC) of this Mega Food Park include Multipurpose Cold Storage – 2000 MT, Individually Quick Frozen (IQF)with Frozen Storage – 2 MT/Hr and 4000 MT, Dry Warehouse – 10000 MT, Raw milk packaging Line – 2 LLPD, Pulses and Grain packaging line – 2 MT & Food testing lab. In addition, the lead promoter will also set up an Anchor Unit with an investment of approx Rs. 24.13 Crore for Dairy Processing with a plant capacity of 500 TPD.
The Park also has a common administrative building for office and other uses by the entrepreneurs and 5 PPCs at Aligarh, Mathura, Kanshiram Nagar, Bharatpur & Agra having facilities for primary processing and storage near the farms.
Speaking on the occasion, Smt. Badal said that the Mega Food Park will leverage an additional investment of about Rs. 250 crore in 25-30 food processing units in the park and generate a turnover of about Rs. 450-500 crore annually. The Park will also provide direct and indirect employment to 5,000 persons and benefit about 25,000 farmers in the CPC and PPC catchment areas.
The minister said that the modern infrastructure for food processing created at Park will benefit the farmers, growers, processors and consumers of Uttar Pradesh and adjoining areas immensely and prove to be a big boost to the growth of the food processing sector in the State of Uttar Pradesh.