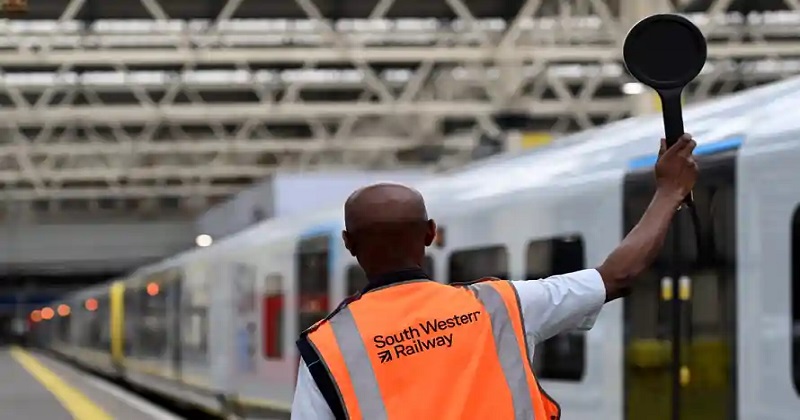 Tens of thousands of railway employees in the United Kingdom went on strike on June 21, bringing the country's train network to a standstill in the country's largest transit strike in three decades. A 24-hour strike by 40,000 cleaners, signalers, maintenance workers, and station personnel was underway, with two more slated for Thursday and Saturday. A strike on the London Underground metro system on Tuesday added to riders' agony.
As Britain's railways battle to recover from the coronavirus outbreak, the dispute centres on wages, working conditions, and job security. Major stations were virtually empty on Tuesday morning, with just around 20% of passenger trains scheduled to run. Employees trying to go to work, students preparing for exams, and music enthusiasts travelling to the Glastonbury Festival, which begins on Wednesday in southwest England, have all been impacted by the strike.
Approximately 1 billion train travels were undertaken in the United Kingdom in the year to March. This is, however, a far cry from pre-COVID-19 levels, and railway businesses that have been able to stay afloat over the previous two years owing to government aid are trying to slash expenses and employees. Last-minute negotiations on Monday failed to yield a breakthrough. The Train, Maritime and Transport Union has declared that it would not accept rail firms' offer of a 3% raise, which is far lower than the current inflation rate of 9%.
According to the union, the Conservative administration is hesitant to give train businesses the discretion to offer big compensation increases. The government pretends to be uninvolved in the negotiations, but it has warned that substantial pay increases will set off a wage-price cycle, increasing inflation even more. Prime Minister Boris Johnson slammed labour unions for 'harming the very people they claim to assist' and called for a 'fair solution for the sake of the British people and the rail employees'.