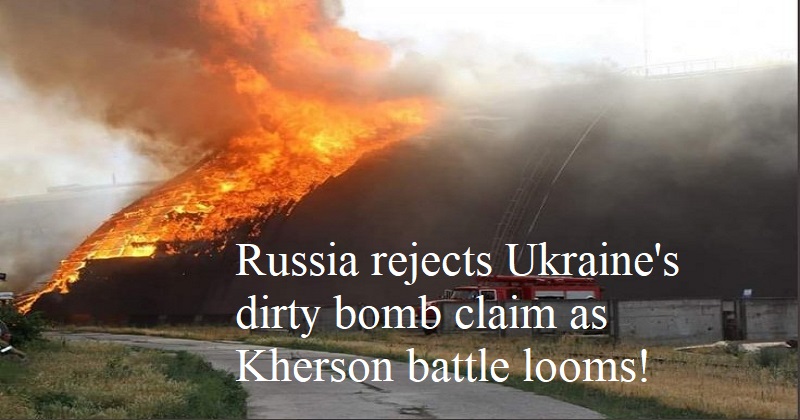 On Sunday, 35 kilometres from Kherson, Russia launched missiles and drones into the Ukrainian-controlled southern town of Mykolaiv, damaging an apartment building. The focus of the conflict has now switched to Kherson after Russia issued an ultimatum for 60,000 residents to leave the area 'to save your life' in response to a swift Ukrainian counteroffensive.
Russia has accused Ukraine of planning to detonate a bomb packed with radioactive material in the Russian-occupied town, but Kyiv has refuted this accusation. The claims are ridiculous and dangerous, according to Dmytro Kuleba, the foreign minister of Ukraine, who also noted that 'Russians frequently accuse others of what they plot themselves'.
Latest updates.
On Sunday, Sergei Shoigu, the Russian defence minister, said that Ukraine was planning to use a 'dirty bomb' on Russian soldiers. During Shoigu's meeting with representatives from the US, UK, and NATO, the accusations were made. A 'dirty bomb' is intended to spread radioactive contamination over a large region, endangering nearby residents. It doesn't entail a nuclear explosion.
The Russian accusations occurred at a time when President Vladimir Putin increased his nuclear rhetoric, particularly after declaring the annexation of 15% of Ukraine.
The US denied Russian charges and warned against attempting to escalate the situation using the allegation as a cover. The US State Department, the British government, and the French government issued a joint statement saying that 'our nations made plain that we all reject Russia's blatantly baseless assertions that Ukraine is prepared to deploy a dirty bomb on its own territory'.
The assertions were also denied by the president of Ukraine, Volodomyr Zelenskyy, who asserted that if Russia calls and alleges that Ukraine is purportedly planning anything, then Russia has already made all of these preparations. I think the world ought to respond as forcefully as possible right now, he continued.
Zelenskyy stated, 'Much the very Russian threat of nuclear weapons and even more so against our nation, which has given up its nuclear arsenal, is a basis for both sanctions and for even greater strengthening of support for Ukraine'.
Russian strikes on Ukraine's vital infrastructure, including its electricity lines, are still ongoing. Over 100,000 tonnes of aviation gasoline were kept in a stockpile in central Ukraine, according to a statement from Moscow on Sunday.
Following recent Russian attacks, more than a million Ukrainian homes are without electricity, and at least a third of the nation's power plants have been damaged just in time for winter.
In the midst of Ukraine's counteroffensive, pro-Moscow leaders have advised inhabitants to evacuate Kherson, a territory in southern Ukraine that Russia claims to have seized. Kherson, the principal city in the area, fell to Moscow's forces initially during the invasion, therefore recapturing it would be a significant victory for Kyiv. The left bank of the Dnipro River is now home to some 25,000 people, according to authorities in Kherson who were selected by Russia.
The missile and drone strikes, mainly on energy installations, occurred after an explosion earlier this month partially damaged the bridge connecting the occupied Crimea peninsula to mainland Russia. Following Putin's warning, Russian missiles began to fall on Kyiv and eight other cities. Ukraine has condemned the 'deportations' of Kherson citizens and condemned them.
Over 6,000 people have died since Russia invaded Ukraine, including 397 children, according to the UN human rights office. The death toll is anticipated to be far higher, bringing home the brutality of the fight. However, these figures are probably a huge undercount.