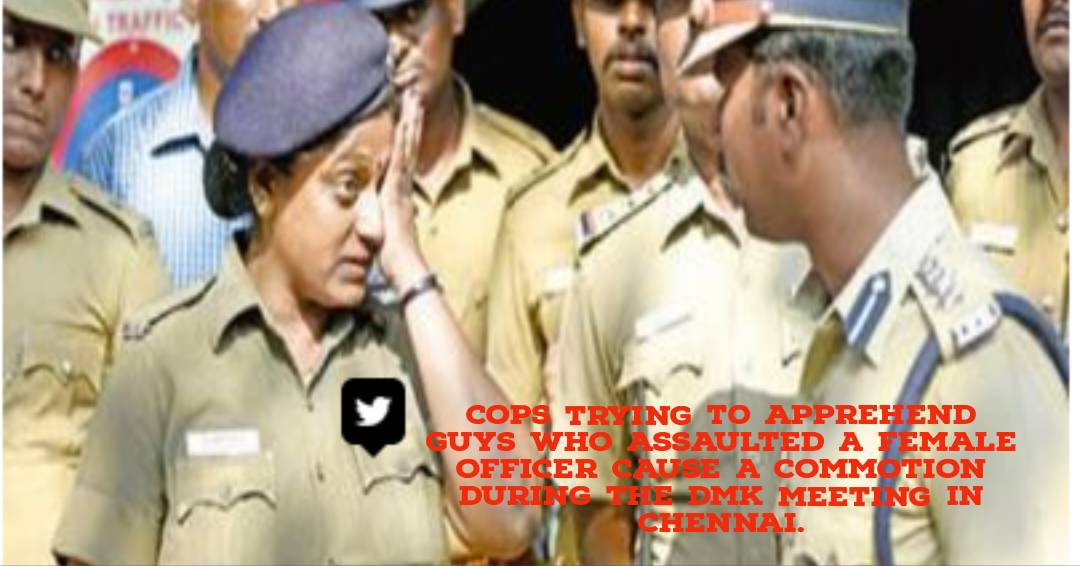 After police attempted to detain two DMK officials for allegedly molesting a female police policeman, a commotion broke out during a Dravida Munnetra Kazhagam meeting in Chennai on Sunday. Party members mobbed the arresting police officers and caused a commotion as they were holding the accused.
On Sunday, the DMK gathering took place in Chennai's Saligramam neighbourhood next to the Dasarathapuram bus stop. In addition to taking part in the ceremony, MP Kanimozhi gave the general public welfare supplies.
A female police officer was spotted crying as the meeting came to a close after two miscreants, Praveen and Egambaram, allegedly mistreated her. When the criminals attempted to run, police surrounded them, but an inspector caught both individuals.
However, DMK cadres encircled them, causing a scene, while police attempted to capture and transport them to the police station. Since there was no formal complaint, the criminals were discharged.
Chief of the Bharatiya Janata Party (BJP) in Tamil Nadu, Annamalai, reacted to the occurrence by calling it a disgrace.
Two DMK Youth Wing members assaulted a police officer who was protecting a member of the public at a meeting in which MP Kanimozhi took part. What's even more abhorrent is that DMK guys hung up and prevented the police from apprehending those two people, tweeted Annamalai, adding that CM Stalin is still standing by and doing nothing.