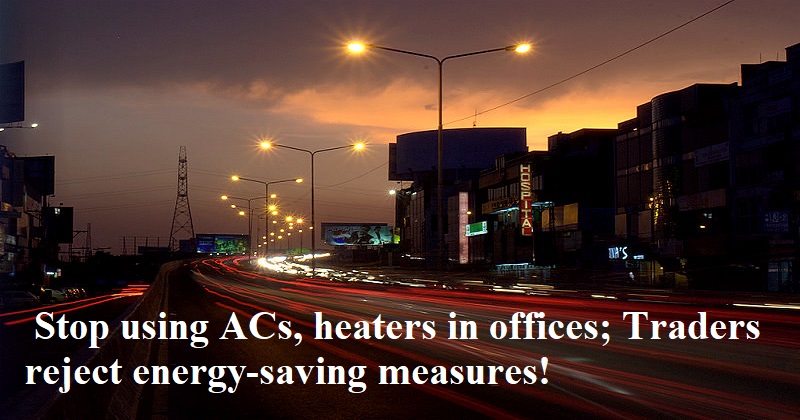 Shopkeepers have vehemently opposed Pakistan's PML-N-led government's announcement to close malls, marketplaces, and wedding halls earlier than planned in order to preserve electricity. Trader organisations in the nation criticised the move, calling it 'unilateral' and 'counter-offensive,' and urged the government to rethink. The governing administration was persuaded to change its mind and let eateries to stay open till midnight by the All Pakistan Restaurant Association.
Ajmal Baloch, the president of All-Pakistan Anjuman Tajiran (APAT), however, stated in an interview with Geo News that, in contrast to the National Energy Conservation Plan's request that businesses close at 8:30 p.m., they will stay open until 10 p.m. and that restaurants will stay open until 11 p.m.
Baloch 'recommended' that government employees stop using the heaters and air conditioners in their workplaces and that the norms and benefits provided to them be stopped. Additionally, he suggested that street lights be turned on after 10 p.m. in order to preserve power and that excessive electricity usage on national roads be reduced.
According to reports, the business community asserts that the decision was made unilaterally in spite of prior meetings where the participating stakeholders had agreed that markets and malls should be permitted to stay open until 9 or 10 pm and restaurants and wedding venues should be permitted to stay open until 11 or 12 pm.
The Pakistani government revealed its energy-saving plan on Tuesday. Markets are required to close at 8:30 p.m., while wedding halls have to close at 10 p.m. According to reports, a 30% power consumption reduction has been mandated for all federal departments. the decision, Pakistani Defense Minister Khawaja Asif said, 'The cabinet, on the proposal of the electricity division, has permitted imposing the energy-saving plan which would be implemented to the entire country'.