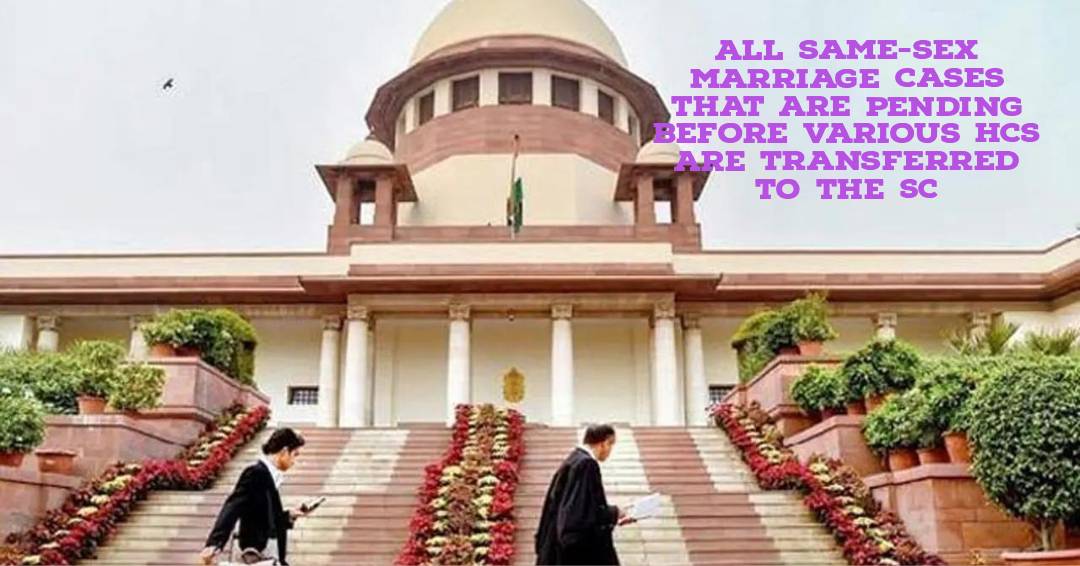 The Supreme Court gathered and forwarded to itself on Friday all petitions concerning the legal recognition of same-sex marriages that were pending before various high courts throughout the nation.
A bench consisting of Chief Justice DY Chandrachud, Justices PS Narasimha and JB Pardiwala, and the Chief Justice requested that the Center submit a joint response to all related petitions by February 15 and ordered that the cases be listed in March.
The bench stated that any petitioner may use the virtual platform if they are unable to appear in person before the court.
It requested that the petitioners' and the Center's legal representatives each provide a written note on the matter, including any relevant laws and precedents, and share it with the court.
The bench instructed the Center's attorney to make sure that no petitioner is overlooked and that all petitioners' information is included in the compilations that will be created.
The top court might either wait for the Delhi High Court to rule on a case that is ready for hearing, according to Solicitor General Tushar Mehta, or it could transfer all of the applications to itself.
The attorneys for the numerous petitioners informed the bench that they wanted the Supreme Court to take up all of the cases so it could make a conclusive ruling on the matter and the Center could respond before the Supreme Court.
On January 3, the Supreme Court announced that it will hear arguments on January 6 in petitions for the recognition of same-sex marriages that were pending before high courts.
On December 14 of last year, the Supreme Court requested a response from the Center in response to two petitions asking that the cases pending in the Delhi High Court for directives to recognise same-sex weddings be transferred to the top court.
Prior to that, on November 25, 2017, the highest court requested the central government's answer to two separate petitions filed by two gay couples seeking the enforcement of their right to marry and an order compelling the authorities to register their marriage under the Special Marriage Act.