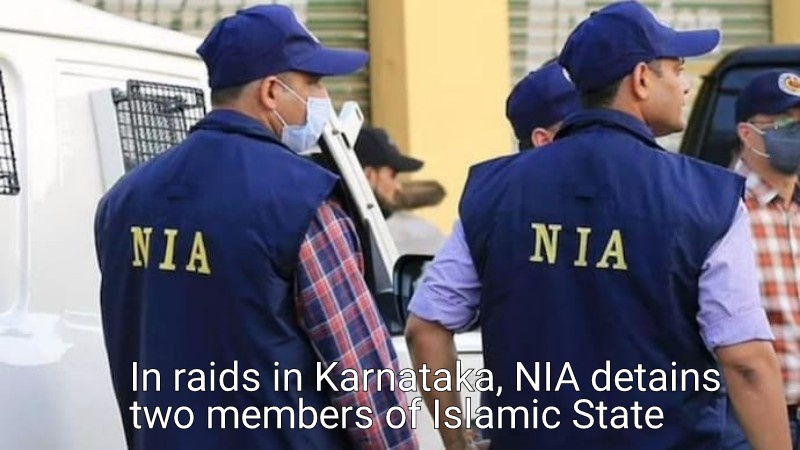 In connection with the Shivamogga ISIS conspiracy case, the National Investigation Agency (NIA) on Thursday carried out raids at a number of locations throughout South India in the state of Karnataka and detained two agents.
The NIA arrested two ISIS members after conducting searches at six locations in the Karnataka districts of Dakshina Kannada, Shivamogga, Davanagere, and Bengaluru.
The case was re-registered by the NIA on November 15, 2022, after being initially registered on September 19, 2022, at the Shivamogga Rural Police Station.
The case relates to a plot concocted by the accused to support the terrorist activities of the Islamic State (IS), a banned terrorist group, and to endanger the nation's unity, security, and sovereignty.
Reshaan Thajuddin Sheikh and Huzair Farhan Baig, two residents of Shivamogga and the Udupi district of Karnataka, have been named as the arrested suspects.
Investigations have shown that the two accused, Reshaan Thajuddin Sheikh and Huzair Farhan Baig, received money from their ISIS handler through cryptocurrency wallets for engaging in terrorist activities on behalf of the Islamic State, and the accused, Maaz Muneer, radicalised his close friend and former classmate Reshaan Thajuddin.
The accused set fire to vehicles as well as other buildings like transformers, godowns, and liquor stores.
Digital devices and incriminating paperwork were seized from the homes of the suspects and accused during today's searches. Earlier in the case, two other people had been taken into custody.