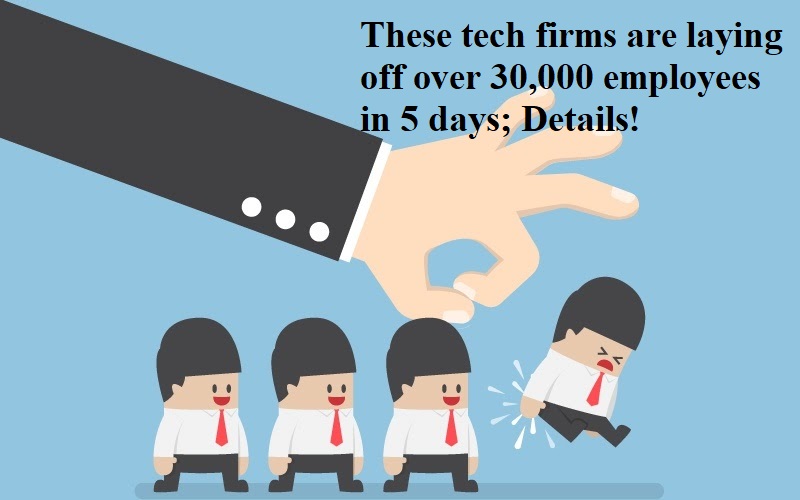 NEW DELHI: With more than 30,000 software professionals losing their employment in only 5 days, 2023 got off to a horrible start. 1,168 businesses fired 2,43,468 employees in 2022. According to data from the US Bureau of Labor Statistics, January will be the month with the most layoffs and terminations. Look at the list of IT businesses who fired thousands of workers in the first week of 2023.
Amazon: Amazon said that it will be firing about 18,000 people. As previously indicated, the yearly planning process was still ongoing, according to Amazon CEO Andy Jassy, who added that 'I believed there will be further position reductions in early 2023'.
Salesforce: Salesforce has requested that roughly 7,000 of its workers leave. Marc Benioff, CEO of Salesforce, stated in a memo to staff that the market is still 'tough' and that our clients are making more thoughtful decisions. 'In light of this, we've made the extremely tough choice to cut our personnel by around 10%, mostly over the upcoming weeks', Benioff said.
Pegasystems: As a potential recession in 2023 looms, the software business Pegasystems is laying off 4% of its approximately 6,000 employees. The company predicted that cash severance and benefit payments for fired workers would result in a charge of $18.9 million in the fourth quarter of 2022 in a filing with the US Securities and Exchange Commission (SEC). The corporate filing stated that the employment cutbacks 'are part of the firm's effort to strengthen its go-to-market operational strategy'.
ByteDance: Hundreds of employees from various departments have been let go by TikTok's Chinese company ByteDance. According to the South China Morning, the layoffs affected workers at the gaming and real estate divisions of Douyin, the Chinese counterpart of TikTok with 600 million daily active users.