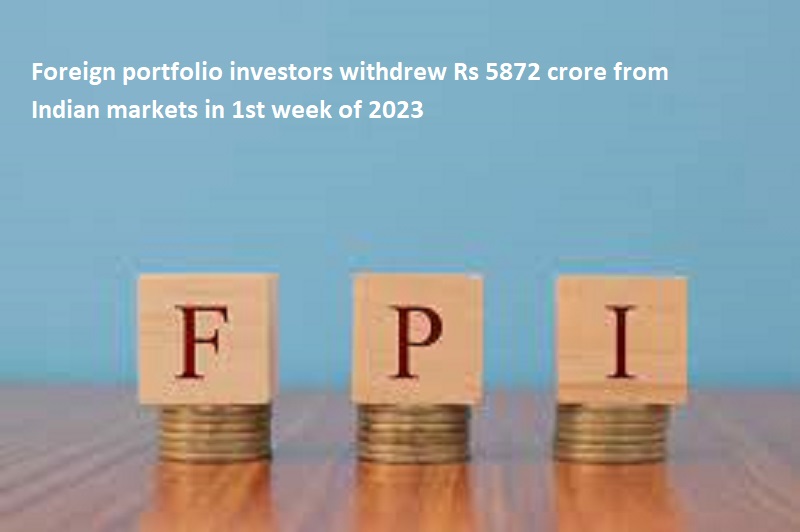 Mumbai: Foreign portfolio investors (FPIs) remained net sellers in the Indian capital markets in the first week of this year. FPIs pulled out Rs 5872 crore from the Indian markets in the week that ended January 6th. As per market experts, the intense bearish sentiment amidst FOMC minutes, economic data, and a sharp selloff in IT stocks were reason for this sustained  foreign fund outflow.
FPIs were broadly net sellers across market instruments. As per NSE data, between January 2-6, FPIs pulled out Rs 5,872 crore from equities, Rs 1,240 crore from debt market, Rs 760 crore from debt-VRR and Rs 36 crore from the hybrid market. Overall, the outflow stood at Rs 7,908 crore in Indian markets during the first week of 2023.
Also Read: Saudi Arabia announces easy payment options for Hajj packages 
Also, foreign institutional investors (FIIs) remained  net sellers the entire week. From January 2nd to 6th, FIIs have pulled out Rs 7,813.44 crore from Indian equities. On Friday, FIIs outflow was highest in the current week to the tune of  Rs 2,902.46 crore followed by selloffs of  Rs 1,449.45 crore and  Rs 2,620.89 crore on January 5th and January 6th. From January 2-3rd, the outflow was at  Rs 840.64 crore.