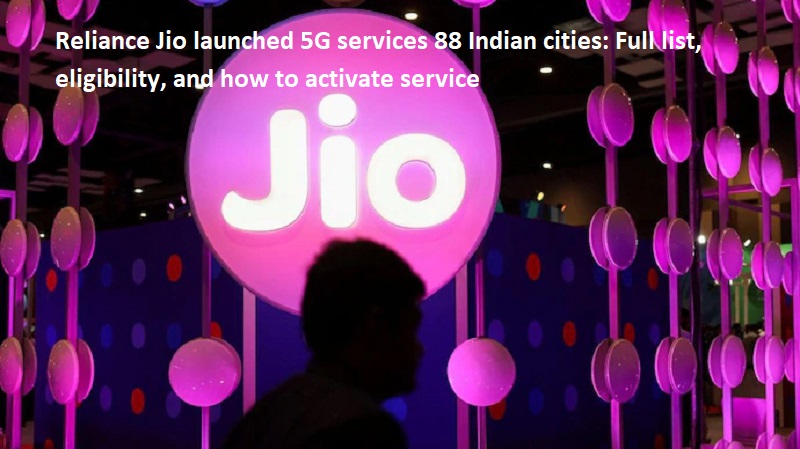 Mumbai:  Leading internet and telecom service provider in the country,  Reliance Jio has launched its 5G services in 88 cities in the country. Jio launched its stand-alone 5G network last year in October 2022 and now it has become the first and the only operator to launch 5G in the majority of cities in India.
Reliance Jio Infocomm,  is an Indian telecommunications company and a subsidiary of Jio Platforms, headquartered in Navi Mumbai, Maharashtra, India. The company earlier announced that it is the only operator to provide its 5G services across the Delhi-NCR region, including Delhi, Gurugram, Noida, Ghaziabad, Faridabad and other major locations.
5G is the fifth-generation mobile network capable of transmitting a large set of data at a very rapid speed. 5G has a very low latency which will enhance user experiences in various sectors. Low latency describes the efficiency to process a very high volume of data messages with a minimal delay.
Jio 5G cities: Full list
October 4, 2022: Delhi, Mumbai, Varanasi, Kolkata
October 22, 2022: Nathdwara, Chennai
November 10, 2022: Bengaluru, Hyderabad
November 11, 2022: Gurugram, Noida, Ghaziabad, Faridabad
November 23, 2022: Pune
November 25, 2022: 33-districts of Gujarat
December 14, 2022: Ujjain temples
December 20, 2022: Kochi, Guruvayur temple
December 26, 2022: Tirumala, Vijayawada, Vishakhapatnam, Guntur,
December 28, 2022: Lucknow, Trivandrum, Mysuru, Nashik, Aurangabad, Chandigarh, Mohali, Panchkula, Zirakpur, Kharar, Derabassi
December 29, 2022: Bhopal, Indore
January 5, 2023: Bhubaneshwar, Cuttack
January 6, 2023: Jabalpur, Gwalior, Ludhiana, Siliguri
January 7, 2023: Jaipur, Jodhpur and Udaipur
January 7, 2023: Agra, Kanpur, Meerut, Prayagraj, Tirupati, Nellore, Kozhikode, Thrissur, Nagpur, Ahmednagar.
Also Read: Mall in UAE announces 'Shop & Win' campaign 
Not all users living in the Jio 5G enabled cities will be able to connect to 5G. Instead, Jio users in these cities will receive a Jio 5G invite- Jio Welcome Offer, to connect and experience Unlimited Data at up to 1 Gbps speeds, at no additional cost. Jio users who has an active recharge plan- prepaid or postpaid- for Rs 239 or higher will get this Welcome Offer.
If a user has received the 5G update in his/her 5G smartphone, and also received the 5G welcome offer then they must  change their phone's settings to connect to the new network. In order to do that – head over to Settings menu > go to network settings > and then switch to 5G.